SGAC Announces the Winner of the 2021 SGAC – OHB SE Competition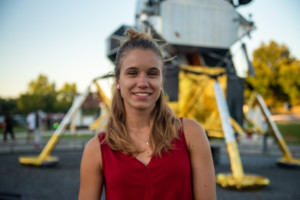 I am a French engineer graduated from IPSA Toulouse with a specialization in space systems, and currently part of the 2nd level specialized master SEEDS in Politecnico di Torino (Italy) on space exploration systems, which I am to graduate in October 2021. Having interned at Eumetsat (Darmstadt, Germany) and Airbus Defence and Space (Toulouse, France) gave me a wide idea of what it takes to work in a multicultural environment and the differences between the industry and a European organization.
More than just a Space geek, my passion for this domain led me to take part in many space related projects from the organization of the SG[France]2021 which took place in Lille in July 2021, to my involvement in analog astronaut missions to Mars. I also love to share my experience to young people about being a woman in the STEM field, as inspiring the next generation is the key to reaching gender equality in those domains. 
Attending the SGC and IAC is an amazing opportunity for me as I will be able to meet and share my passion with people from everywhere in the world. It will be my first time in Dubai, and my first international space congress, I'm really looking forward to experiencing it!
"If you want to reach your biggest dreams, you must be ready to face whatever it takes
"