Welcome to Singapore! We are excited to have you going us for APSGW 18! Here you will find information about getting to Singapore as well as information about getting around once you have arrived in Singapore!
Getting to and from Singapore
From Singapore Changi Airport
The most effective route from Singapore Changi Airport to the venue (Boeing Professional & Training Services) is to take an Uber from the arrival level.
From Changi airport to venue
Head onto Airport Blvd Exit 1, continue onto PIE. Keep left and take exit 2 for Upper Changi Rd East. Keep to the left and follow signs to upper Changi road East. Keep right at the fork and follow signs to upper Changi road east. Turn right to Upper Changi road N and turn right to Changi North Street 1. Following that turn right to Changi North Rise.
From park avenue to venue:
Get on PIE from North Buona Vista Rd, Holland Rd, Farrer Rd, Farrer Flyover and Adam Rd. (Head northeast on North Buona Vista Rd toward Vista Exchange Green. Then use any lane to turn right onto Holland Rd. Slight left toward Holland Rd (signs for Farrer Rd/Queensway). Continue onto Holland Rd. Take the ramp onto Farrer Rd. Continue straight onto Farrer Flyover. Continue onto Adam Rd. Use the left lane to merge onto PIE via the ramp to Changi Airport.)
Then follow PIE to Upper Changi Rd N. Take exit 2 from PIE. (Merge onto PIE. Use the left 2 lanes to take exit 2 for Upp Changi Rd East.)
Continue on Upper Changi Rd N. Take Changi North Street 1 to Changi North Rise (Continue onto Upper Changi Rd N. Use the right 2 lanes to turn right onto Changi North Street 1. Turn right onto Changi North Rise.)
Need a Taxi/Uber/ Airport car hire/city train?
Taxi booking hotlines
Common Hotline – 6342 5222 (6-DIAL-CAB)
Comfort & CityCab – 6552 1111
Premier Taxis – 6363 6888
Prime Taxi – 6778 0808
SMRT Taxis – 6555 8888
Trans-Cab Services – 6555 3333
Yellow-Top Taxi – 6293 5545
Booking fee: Ranges from $2.30-$4.50 depending on taxi operator and non-peak/peak period, $8 (advance booking)
For more info, click here: https://www.taxisingapore.com/taxi-booking/
Taxi stand location at Changi Airport
Basement 1 at Changi Airport's Terminal 1
Level 1 at Changi Airport's Terminal 2
Level 1 at Changi Airport's Terminal 3
Find all information on Taxi companies and services on this website: https://www.taxisingapore.com
*Grab: Grab is also available in Singapore. Simply log on to your Grab app and choose your car!
Airport car hire:
For car hire, approach the following car rental counters at the Arrival Halls:The counter operating hours are from 7.00am to 11.00pm.
Terminal 2
Avis: +65 6542 8855
Budget: +65 6543 9114
Hertz: +65 6542 5300
Terminal 3
Avis: +65 6447 9011
Budget: +65 6441 0764
Hertz: +65 6446 7211
Terminal 4
Avis/ Budget : +65 6581 6122
More information on airport car hire here: http://www.changiairport.com/en/transport/rental-services.html
If driving, do take note that Singapore has left hand drive roads.
Venue address:
Boeing Training & Professional Services
#01-01, 30 Changi North Rise, Singapore 498780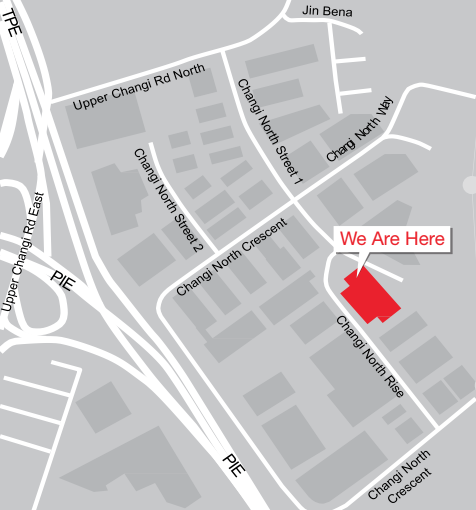 Getting around in Singapore
Parking in Singapore:
Closest parking garage to venue:
#01-01, 30 Changi North Rise, Singapore 498780
Parking lots are provided at the Singapore campus and there is no parking fee.
Using public transportation:
Mass Rapid Transit (MRT) trains and SBS/SMRT buses are convenient modes of transportation around Singapore.
An EZ link card is required as the mode of payment for the public transport services. Otherwise, payment can be made through the purchase of ticket which is priced based on distance travelled.
MRT Map: https://www.transitlink.com.sg/images/eguide/mrt_sys_map.htm
Banking and Singapore Dollars (SGD)
Commonly accepted credit and debit cards are MasterCard and Visa. Banks in Singapore include DBS, OCBC, UOB, POSB. International banks include Citibank, HSBC, Barclays and Standard Chartered Singapore.
Shopping
Closest supermarkets to the venue:
Near to Changi Airport Terminal 1,
Cold Storage at Changi 80 Airport Boulevard, Singapore 819642, 6546 2198
Near to Changi Airport Terminal 2,
Fairprice at Changi 60 Airport Boulevard Singapore 819643, 6543 1239
Near to Park Avenue Hotel
Supermarkets at Changi City Point shopping mall which is within a 10-minute walk
Emergency police info:
Ambulance Service 995
Ambulance Service (non-emergency) 1777
Civil Ambulance 6333 3000
Fire 995
Police 999
Points of Contact:
Faith Tng
[email protected]
Delegates Team:
Power Adaptor:
You will need a Plug G type adaptor for the sockets in Singapore. The standard voltage is 230V and the standard frequency is 50Hz.