"I want to have astronomy go viral in Pakistan"
Interview with Yumna Majeed, NPoC of Pakistan
By Ludving Cano Fernandez
Let's begin with your organization, How did it start?
I really can't tell you when exactly it started. It's innate. Exploring what's outside our planet has been my curiosity, dream, ambition since childhood.
What do you do?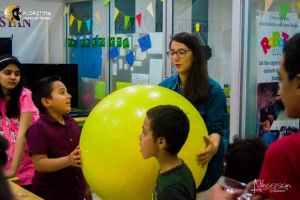 I started my space awareness campaign in 2016 and gradually I became a student ambassador and volunteer for different space education organizations. It wasn't a job but as an ambassador I had to report my outreach sessions to them. It was difficult to write reports every time because I was doing more and more sessions. So I named my campaign Exploration, and it's the Pakistani satellite of all those international organizations that I am an ambassador or national coordinator for. 
Why "Exploration"?
One of my partners is "Space For Art Foundation", a USA based space art organisation. We paint with pediatric patients and school kids, exhibit the artwork around the world and send it to ISS sometimes as well. In 2019 we are painting Exploration Spacesuit and I named my organization after this project. 
What's the future of your organization?
It's not about the future of Exploration. It's about the future of space exploration and astronomy in Pakistan. My mission is to make astronomy a trend and make it "go viral" in Pakistan. Introducing astronomy as a subject in our schools would be really effective.
Who inspired you?
No one (in person) inspired me in the beginning. It was my curiosity that I always used to look up "space news" which were so rare in Pakistan. I remember we used to have weekly newspaper The News at home and I used to keep newspaper cuttings of space-related news. When I got internet access, I always searched about planets and astronauts. I thought there was nothing discovered beyond Pluto and I wanted to see what's beyond.
Pakistan's space agency SUPARCO is situated near my home. Whenever we pass by it, I asked "What's this big building?" — and my parents told me it's a place where scientists see stars and galaxies. I was always moved by the thought that one day I can go there and see the stars. But I was disappointed as I grew up and realized that we are far behind other space agencies and there's no public engagement offered by them. After many years, the condition is still the same.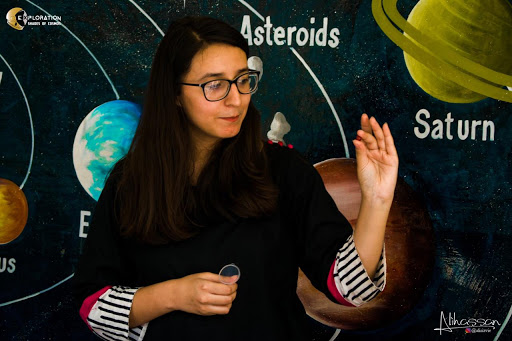 How did you find SGAC?
I spent a lot of my time on the internet looking for space organizations and Pakistanis who work in the space sector. SGAC can never be ignored in the list of space organizations helping young professionals. I used to read their website updates like reading a course book. I was 17 or maybe 18 y/o when I sent an email to Pakistani National Point of Contact (NPoC). His reply made sure that I got to know Pakistani based astronomy communities, and SGAC was inactive in Pakistan. That was the point, I started following SGAC more. Because of their member/volunteer.
What do you consider is the biggest difficulty for you?
My biggest difficulty throughout my journey is being a girl. I can't go out to random places/parks and invite people to enjoy the beauty beyond the earth's atmosphere. I belong to a desi/Pakistani family where coming back home before Maghreb (sunset) is a must for a girl. How can I see or show the beauty of the night sky in daytime? Ironic, isn't it? Some schools hesitate to give me an all-boys class. They think the boys might misbehave seeing a young teacher. But I have never experienced such a thing during my class. None of the male students misbehaved at any school. I have to source every material myself and I come across weird comments like why do you need PVC pipes or batteries. Everyday media highlights bad incidents happening which makes my family worried about me. I have been invited to far cities and I would not resist to say that they are the most beautiful areas of Pakistan, but I am not allowed to travel that far.
How have you overcome your limitations?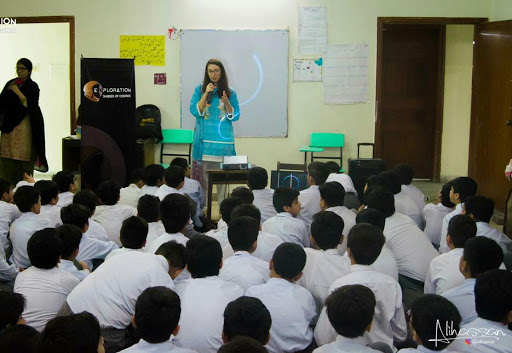 By working with a professional attitude, improving the quality of my work. Hiding my medical student identity was a plus point too! 
What is the most important lesson you have learned so far?
To contribute, not to compete. And to never, ever, ever give up!
What is your most important advice for students and young professionals to pursue their goals?
Draw your own roadmap to stars, work hard to get there even if the odds are not in your favour.
How would you like to see your region in the near future?
Back in 2016, when I started space awareness campaign, I had the worst reactions from schools not accepting Astronomy & Space as science subject but now, after three years, schools are really interested to get to know and teach this science. I believe there would be enough awareness soon when our young generation will adopt it as a career and soon we'll reach the stars.
— 
Yumna Majeed is the National Point of Contact of Pakistan for the Space Generation Advisory Council. She has founded and manages Exploration, a Pakistani organization that aims to teach and inspire students from all over the country.