"I can't say this enough, SGAC is all about the incredible people that make up our organization"
An interview with Harriet Brettle, our new SGAC Co-Chair
by Mclee Kerolle
First of all, congratulations for your new position as Co-chair. For those of you that do not know you, can you please introduce yourself to our readers. Tell us a little about your background, such as the significance of the 'Astronomer' pub?
Thank you! I'm thrilled and honoured to be elected as co-chair of SGAC! A bit about me, I'm from the UK and work for Astroscale as Head of Business Analysis. I haven't always worked in the space industry… before I discovered SGAC, I worked in a bank for four years! I'm really passionate about connecting and empowering the space community. Last year I co-founded the London Space Network – a super simple idea: we get together once a month in a different London pub. The first event was at a pub called the Astronomer, how perfect is that?! Highly recommend checking it out if you're in London!
Just put Astronomer on my list! So speaking of SGAC, you've been an active member since 2016, how did you first get involved with SGAC?
I first discovered SGAC when I was living in New York, working for a bank, and googling ways to get involved in the space community. I must have stumbled upon SGAC by chance but discovering there was a global community of student and young professionals passionate about space was exactly what I was looking for! I quickly applied for every vacancy on the SGAC webpage and, at first, got nowhere. Fortunately I persisted, and SGAC took a chance on me as the executive co-secretary. From that I was able to attend the Space Generation Fusion Forum through the Global Grant scholarship, and then I was completely hooked!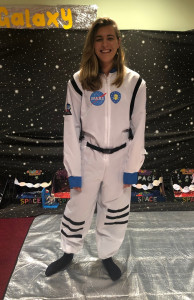 I know how that goes! In fact, if I remember correctly, we first met at the Space Generation Fusion Forum in 2017. There's been a lot of SGAC events between now and then. What has been your most fun moment with SGAC so far? 
Yes! That was my first SGAC event. Can I pick that whole week?! Through my role as SGAC secretary I'd been awarded a scholarship to attend the SGFF so I took a week's vacation from my job in a bank and flew to Colorado Springs. I remember it feeling so surreal because I'd been emailing people for months for SGAC work who I was finally meeting in person! Between the awe-inspiring talks and networking during the day, and the crazy fun evening socials, I knew I'd found a great organisation to be a part of.
SGAC is famous for being a global non-profit in the space industry. You're someone with a healthy background in the for-profit world. According to you, what do you think is the main strength of SGAC?
100% it's the incredible people that make up SGAC! I've had the privilege to work alongside extraordinary people who have become great friends, colleagues, mentors, and mentees. I feel very grateful that SGAC has surrounded me with peers who share my passion for the space community and are pursuing that passion in a variety of ways.
What is your vision for SGAC in the next few years? In light of everything happening with Covid-19, it's very possible that this may change the landscape of the space industry for the foreseeable future. How do you see SGAC evolving?
SGAC has grown dramatically over the last few years and we are facing unprecedented times with the Covid-19 crisis. SGAC is lucky in a sense that we are used to operating online in a lot of ways. We have a global leadership team that meets virtually to run the entire organisation; we have an active community on Slack, and project groups whereby people can work together on topics no matter where they are. That said, many SGAC events this year have been postponed or cancelled. I'm in awe of the fantastic SGAC Covid-19 Action Team that has been organising a number of online initiatives. I hope that we can utilise lessons learnt from this time to increase access to future SGAC events, for those that can't attend in person.
You're already making strides in the space industry as the Head of Business Analysis at Astroscale (one of the space startups to watch for). What are your top 3 objectives/goals for your term as SGAC Chair?
Thank you! My top 3 goals are: [1] support the past growth of SGAC whilst focussing on execution (doing the things we do well), [2] strengthen communication within SGAC and [3] supporting and empowering SGAC members to make the most of fantastic network, initiatives and opportunities.
How do you plan to achieve your goals?
I've dived right in at the deep end and am having regular calls with the SGAC leader team and others to get up to speed! There is so much going on with SGAC initiatives around the world which is a combination of awesome and inspiring, with a little dash of feeling overwhelming! Together with Arnau, I'm establishing chair office hours, so that SGAC team members can discuss ideas, feedback and suggestions directly with us.
Anything you want to tell our community as you just started your new role?
Thank you for being part of the SGAC family! Honestly, I can't say this enough, SGAC is all about the incredible people that make up our organization. I feel very lucky to be in this position and I look forward to the adventure ahead!
Besides London, because you might be biased, what is your favorite space city and why? By "space city", I mean a city with a vibrant space network for students and young professionals.
That's a tough one! Honestly it's so hard to say as there's so many places I haven't been. If I can't choose London (you're right, I am biased, but it is the best!) then I'd go for LA. I lived in LA for a year and I loved the diversity of the space scene, everything from huge aerospace primes, to innovative startups, from NASA's Jet Propulsion Laboratory to the Planetary Society and Griffith Observatory. If only you didn't have to navigate LA's traffic to go from place to place…!
In light of Covid-19, what do you think will be the most pressing issue or concern for students and young professionals in the space sector?
This current situation is affecting people in very different ways. Some will be struggling with work whilst others with supporting family. Some may be frustrated by travel restrictions and others just simply bored in this new-normal we are facing. I hope that people can find SGAC to be a valuable network in these times, whether it's connecting with friends via our slack community, participating in online SGAC events, or checking our online resource database.