The Luxembourg Space Agency (LSA) and SGAC are pleased to announce the five winners of the LSA-SGAC NewSpace Europe 2022 Pitch Competition Scholarship for students and young professionals to attend and pitch their startup at the NewSpace Europe 2022 conference in Luxembourg on the 27th October 2022!
Congratulations to all of you!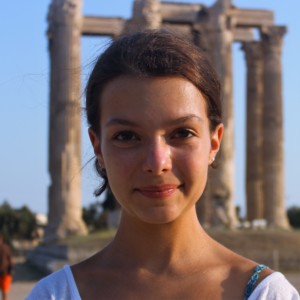 Gaia Roncalli is a TU Delft Space MSc student specialising in space sustainability and technology entrepreneurship. She has been a trainee at Thales Alenia Space and at ESA in the Space Situational Awareness department. In 2021 she co-founded Ecosmic, a start-up that aims at making space traffic management easier by providing a user-friendly space debris collision avoidance software. Since 2020 she has been a mentor to new aerospace students and earlier this year she won the IAWA scholarship, which is awarded every year to one female student of the aerospace faculty who has shown the ability to "inspire and lead".
"I am very exited to receive the LSA-SGAC NewSpace Europe 2022 Pitch Competition Scholarship. This scholarship will allow me to pitch Ecosmic's vision to a bigger stage and form meaningful connections."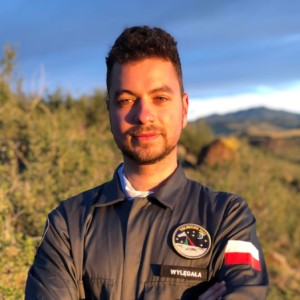 Filip Wylęgała born in Katowice, Poland. Student of mechatronics: intelligent systems. A passionate aviation and aerospace enthusiast from an early age. At the age of 14, he began his adventure with gliders and then switched to aircraft at the age of 16, obtaining an aeroplane pilot's licence. He spent 400 hours at the controls of aircraft, including operations with parachute jumpers. Co-author of a scientific publication resulting in a patent application. Interested in a modern approach to space harvesting. Member of the SpaceTeam AGH scientific association with which he won 2nd place in the "Over the Dusty Moon Chalange" competition organized by the Colorado School of Mines. The team was awarded for the best mechanical design of a lunar regolith conveyor. Distinguished in the best thesis competition. Member of the student government of UNIVERSEH (European Space University for Earth and Humanity). Co-founder of United Socks, a company selling personalized socks.
"I am very proud to have received the LSA-SGAC NewSpace Europe 2022 Pitch Competition Scholarship. I believe this is an extraordinary opportunity to present my vision to the European space sector."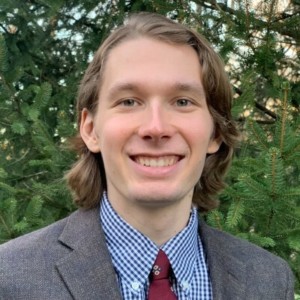 Luke Neise is a recent graduate of the Stanford University Master's program in aeronautics & astronautics, where his work was supported by both an NSF Graduate Research Fellowship and a TBP Graduate Research Fellowship. While at Stanford, Luke was selected to the Threshold Venture Fellows program, an opportunity through which he was exposed to the world of entrepreneurship and got the chance to learn firsthand from pioneers and leaders across Silicon Valley. Before that, Luke attended Vanderbilt University for his Bachelor's degree in mechanical engineering, where he was awarded both the Founder's Medal and the Mechanical Engineering Program Award for the Class of 2020. Luke also has experience on the government and startup sides of the aerospace industry, having previously held positions at the Department of Defense and Varda Space Industries, respectively. Luke is especially passionate about climate change and the space economy. As co-founder of General Galactic, he seeks to leverage the intersection of climate and space to combat our climate challenge on Earth, while simultaneously unlocking the next era of space exploration missions beyond.
"I am extremely grateful to SGAC and LSA for this scholarship and the opportunity that comes with it. It is a true honor to be able to deliver my pitch at NewSpace Europe 2022 and engage with the incredible community there."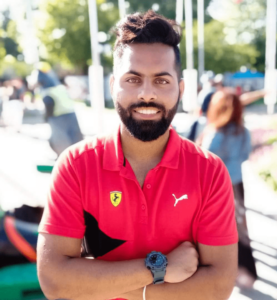 Mr. Prabhpreet Singh Data (P.S. Data), is a space engineering student at the Technical University of Berlin, with a portfolio spectrum from a design engineer to a visual artist. He believes, a fine brush stroke of an artist in his personality allows him to have a creative point of view and that's what lead him to found Team Perspective along with his mates. The team envisions autonomous & responsive spacecraft platforms. He hails from the city of Bathinda in India, and after graduating as an Aeronautical Engineer from the Manipal Institute of Technology, he started his career as a project engineer with a focus on space propulsion systems. Later, he worked as a student assistant at the German Research Center for Geosciences (GFZ) Potsdam with a focus on algorithm & software development for the accurate positioning of the GNSS satellites. During his career journey, he has contributed to various projects and filed three patents, including one on the launch vehicle serial staging design.
His latest obsession is with research and development of new ideas that could change the course of human-machine interaction in space tech. Recently, he presented his concept of Expandable Orbital Stage in a Pitch competition organized by Ariane group and the University of Luxembourg. His idea stood as the first winner among finalists from across the globe.
He envisions that the introduction of state-of-art innovations will lead to a renaissance in the human-machine experience. Apart from envisioning space, sometimes he prefers to give rest to the toolkit and go for a swim or beach volleyball.
"It's my pleasure to be the recipient of the LSA-SGAC NewSpace Europe 2022 Pitch Competition Scholarship Award and would like to express my gratitude to the whole SGAC team for providing a platform & support for the growth of young minds across the world. Looking forward to attending NewSpace Europe and in-person meetings."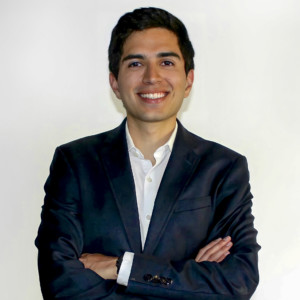 Matias is an Ecuadorian engineer and space enthusiast. He graduated from Worcester Polytechnic Institute (USA), where he obtained both his Bachelor's and Master's of Science degrees in Aerospace Engineering and a Minor in Robotics Engineering. Additionally, Matias obtained a Physics teaching license from the state of Massachusetts. Matias started his career in Germany where he worked at Silver Atena GmbH and then returned to Ecuador to become a space entrepreneur. Matias is the founder and CEO of Astralintu Space Technologies, which focuses on providing in-orbit services to grant space access to emerging actors in Latin America and the world.
Additionally, Matias volunteers as the STEM Program Director for the Sideralis Foundation acts as the SGAC's National Point of Contact for Ecuador, is the current Vice-Chair of the IAF Administrative Committee for Developing Countries and Emerging Communities, and is the Chair of the IAF Latin American and Caribbean Subcommittee. Matias has been recognized as an Emerging Space Leader by the International Astronautical Federation and a Space Generation Leader by the SGAC. Through engineering and education, Matías looks to lead and promote the development of the New Space industry in Latin America so the region can attain all its benefits.
"Astralintu was envisioned as a company that inspires people to reach what seems impossible. Founded in Ecuador in 2020 we look to become the go-to space service provider in Latin America. We seek to show that emerging countries are capable of being active actors in the space industry."