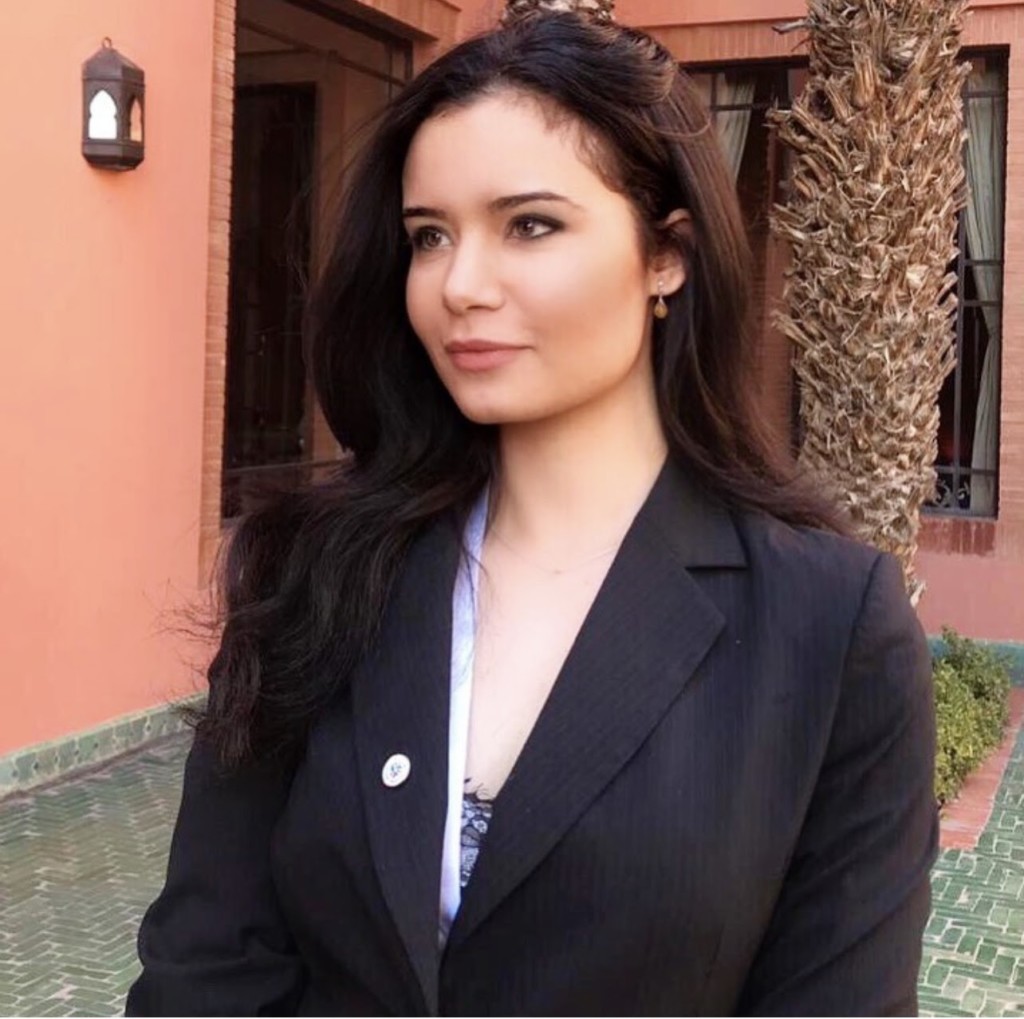 Rania Toukebri is (Tunisian Based in Germany) the regional coordinator for Africa, re-elected in June 2021. 
Rania is a Space Engineer working on the design, verification and integration of spacecraft. She has been part of several European Space Agency projects for earth observation, planetary defense and space exploration. Among them: HERA, Biomass, Plato, JUICE etc.
She studied in INSAT on electronics and Instrumentation and got her engineering diploma. Her graduation project was on a CubeSat IP2sat, one of QB50 CubeSat. 
She got a master degree from University de Picardie Jules Vernes on Embedded Systems followed by computer science from Stanford University. She studied Software development and satellite Communication and took several certifications on management: Scrum, 6 sigma and project Management. She also got a license from INTEL on FPGA design.
In 2020, she got a certificate from McGill University after enrolling courses on Strategic Space Law. She is now a PhD candidate and her work is related to quantum technology and data security.  
She has been selected a one of UNOOSA Space for women mentors, she was Top 10 under 30 space experts in Space in Africa in 2019 and Top 3 for The TOYP (Ten Outstanding Young Persons) nominated by JCI Tunisia in 2021. 
She is also a Space Programs Manager and Space Strategy Consultant called for the implementation and the support of African space programs. She is co-founder and CTO of the startup OnaSpace (HumudaPlus).
She is also Chief Executive Officer for Tod´aers to enhance international space research. She has launched the African Space Education Program for capacity building in Africa. She has several articles in Cybersecurity, Space Architecture and Space Strategy. 
History with SGAC
"I started my activities in SGAC in 2015 where I have been appointed as National Point of Contact of Tunisia. My goal was to connect the space related community and kick off discussions with the main stakeholders, students, and entrepreneurs to raise awareness and bring more interest in the space field. I tried to enlarge the SGAC community in Tunisia and help them to take part in the working groups, workshops and events. SGAC became a space reference in Tunisia. Thanks to this outstanding organization, many opportunities have been offered and many obstacles have been overcome on what concerns joining this field that had several restrictions and almost no industry. 
Now, after 5 years, I am extremely glad to see that the space industry has started to see the light and is getting a huge step with multiple projects in universities and private sector, as well as the organizations and media that are playing a major role in spreading awareness. I will continue supporting the Tunisian space sector and provide the needed recommendation to the main bodies or to the youth.
In June 2018 I was honored to be elected as Regional Coordinator for Africa. I had the plan to organize the activities in SGAC Africa and keep the dynamism in the region. 
Raising awareness in a region that doesn't consider space as a priority and doesn't recognize space application benefits is extremely hard. But my team and I tried to make it happen. I have been part of several workshops and represented the African youth voices in multiple SGAC, IAF, space foundation, ICESCO, IEEE, FinTech, AUC, ISU and UNOOSA events all over the world. 
I supported several local events in Africa and kicked off discussions. The purpose of these activities was to "talk about space" and make it more accessible. Space culture is now more considered after the big space exploration projects, Musk and Bezos ambitions but mainly because Space applications could solve major issues in Africa and are linked to the sustainable development goals. The 2063 Agenda and 2030 Program of SDGs considered earth observation satellites, navigation and Positioning, communication satellites as well as astronomy and science.  
What we mainly needed to establish in Africa through SGAC was education and mentoring. In fact, human Resources are one of the basic pillars to build the space market, they need to be well managed to make a real impact. We need to create the capacities that will solve environmental and economic issues in the African region using space technology. I plan to extend and improve the network of youth in Space. The aim is to promote space applications, gender balance for a sustainable space sector. We will be endorsing the space enthusiasts that still need guidance in their careers. 
We need to make a bigger impact through SGAC to have a well-established space market and available resources to the African communities from Africans for Africans. 
SGAC has been the best community to develop leadership and soft skills. We learned a lot from the discussions with the big space community and we got the opportunity to present our ideas in front of a big audience. We are still pushing ourselves to new challenges and bigger dreams. 
SGAC is my family and I am extremely glad to have a second term as regional Coordinator for Africa and get the pioneer award.
I would like to thank Ahmed, Imane and Marco for endorsing me, as well as SGAC Africa NPoCs and executives for their trust and support. I loved working with you and it has been a pleasure to build our dream – Having a better Africa. 
Ad Astra!"