Small Satellites Project Group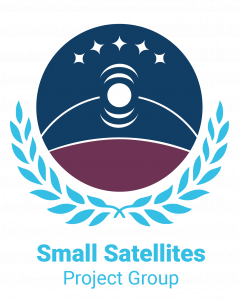 Our Research Projects
SSPG research teams work to develop, investigate, and share knowledge related to small satellite technologies. These projects span a variety of impactful topics, including climate and natural disaster monitoring, space debris mitigation, and interplanetary space exploration. 
Current Research Activities
"Feasibility Study on Enabling Technologies for Designing a Synthetic Aperture Radar Payload on a Nanosatellite for Monitoring Water Levels in Flood Prone Areas of Nigeria"
Coordinated by Maren Mashor
The Nigerian Hydrological Services Agency identified soil moisture as a significant contributor to flooding in Nigeria in its 2020 annual flood outlook report. Swift access to accurate soil moisture data using radar remote sensing data collection techniques has improved flood risk management in the region. These techniques provide higher-resolution images independent of weather conditions, making them preferred over traditional methods like gauge observation and expensive equipment like echo sounders. The use of Synthetic Aperture Radar (SAR) payloads on nanosatellites for cost-effective, fast and continuous monitoring of water levels is a promising approach. However, the design of such a system poses challenges to fit the restrictions on size, weight, power, and cost (SWaP-C) of a nanosatellite. This paper identifies and performs a feasibility study on enabling technologies to design a Synthetic Aperture Radar (SAR) payload on a nanosatellite for the purpose of monitoring water levels in flood prone areas of Nigeria. This methodology consists of stages. Initially, SAR dataset user requirements for Kogi State, Nigeria, are evaluated to define key mission parameters such as coverage, image mode, swath width, revisit time, and resolution. Next, current SAR payload designs and advances are assessed to determine the architecture that best meets these user requirements. Shortlisted payload designs are then subjected to a feasibility study for integration on a nanosatellite bus ranging from 3-Unit to 6-Unit Cubesats. A constraint-driven design process is employed to generate system specifications from the feasibility study results. The specifications are then used to design a SAR payload that integrates on a nanosatellite bus. Finally, Systems Tool Kit; a software used to model and analyse space systems, is used to test the conceptual integrated design to validate the mission's feasibility. The outcome of this research is a comprehensive SAR dataset user requirement document, tailored to the hydrological characteristics necessary for monitoring water levels in Kogi State, Nigeria. Furthermore, technical reports and a feasibility study are presented, evaluating SAR payload sensors and designs that satisfy the user requirements, with emphasis on their integration onto a nanosatellite bus. The conceptual design specifications and test results are also presented in detail. Finally, summary and discussion of the outcomes, including the encountered challenges and recommendations are presented. These results provide technical insights and a framework for designing future SAR nanosatellite missions to detect and predict flood events to enable a fast early warning system that will aid in flood prediction and management.
"Building a Sustainable Climate Change Monitoring Satellite Mission through Life Cycle Assessment"
Coordinated by Dhanisha Sateesh
Climate change poses a significant threat to our planet, and accurate monitoring of essential climate variables is crucial for understanding and mitigating its effects. However, current remote sensing missions do not provide systemic high quality spatial resolution data for large swath areas. It is also unclear as to whether these missions are sustainable and follow the recommended international guidelines for space missions. The main objective of this research paper is to conceptualize a climate change monitoring satellite mission that is proven to be sustainable through life cycle assessment (LCA). LCA is an important tool that can help evaluate conceptual designs based on their environmental impact over their life cycles and when employed in the space mission design context, it can help determine efficient and sustainable alternatives to presently used materials and processes in satellites. This research focuses on the conceptual design of a constellation of low altitude remote sensing small satellites at SSO (Sun Synchronous Orbit) and orbits having a medium range inclination – MIO (Mid Inclination Orbit), in order to obtain frequent coverage at both higher and lower altitudes with greater revisit frequency. These satellites monitor key climate change indicators as defined by the EPA, such as surface temperature, polar ice cap melting rates, percentage of sea level rise, precipitation rates and greenhouse gas emissions among many more through novel instruments that are designed following the heritage of missions like Copernicus-Sentinel, LandSat and A-Train and improving upon the resolution obtained using recently introduced technology like hyperspectral imagery and high speed onboard data processing systems. The research also includes the design parameters of the satellite's structure, electronics and power handling system, orbit determination and attitude control system, onboard electric propulsion system and data handling and communication system. The proposed mission design also complies with the existing space law policies and has proper deorbit procedures like the recently introduced 5 year deorbit rule adopted by the FCC. In summary, this paper outlines the conceptual design of a sustainable climate change monitoring satellite mission that provides high-resolution, frequent coverage of key climate indicators over large areas, thus providing a solution to the gap present in the existing remote sensing satellite missions.
"Analysis of Space Debris Mitigation and Removal Techniques for Small Satellites in Low Earth Orbit in Purview of the Guidelines Issued by the FCC"
Coordinated by Prerna Baranwal
As the number of space launches and missions increases exponentially, so does the amount of space debris in orbit. This poses a serious threat to spacecrafts and astronauts, as even small fragments travelling at high speeds, can cause considerable damage upon impact and may eventually lead to Kessler Syndrome. European Space Agency's (ESA) space debris mitigation handbook, Indian Space Research Organisation's (ISRO) Network for Space Objects Tracking and Analysis (NETRA) and National Aeronautics and Space Administration's (NASA) Orbital Debris Program Office (ODPO) are some of the measures put in place by governmental agencies to tackle this problem. However, ongoing efforts are still needed to effectively manage the increasing accumulation of space debris.
This research assesses the impact of the 2022 ruling by the Federal Communications Commission (FCC) that mandates satellites operating in Low Earth Orbit (LEO) to be de-orbited within five years of mission completion, instead of the previous twenty-five-year limit. With a two-year transition period for the small satellite industry, the study focuses on the effect of this ruling on small satellites, especially satellite constellations, by analysing the cost-effectiveness, technological readiness level, advantages, and disadvantages of space debris mitigation measures and removal techniques. The research investigates different methods for eliminating orbital debris, such as controlled atmospheric re-entry, acceleration of natural spacecraft decay, relocation to graveyard orbits, and active debris removal, as well as processes to prevent collisions between non-manoeuvrable objects. It also delves into space debris mitigation techniques like just-in-time collision avoidance (JCA) and the management of traffic generated by large debris. The study concludes by providing a roadmap for small satellite developers to adopt optimal space debris removal and mitigation techniques for their proposals. The analysis is conducted by a team of volunteers from the Small Satellites Project Group (SSPG) of the Space Generation Advisory Council (SGAC).
"Lessons Learned from the First Generation of Interplanetary SmallSats"
Coordinated by Aysha Alharam
Small Satellites, or 'SmallSats,' are increasingly dominating the current era of space exploration and have opened a whole new set of scientific and space exploration opportunities. In particular, the CubeSat form factor has enabled hundreds of sustainable, low-cost, and simple missions over the last decade. However, SmallSats have just begun to operate in interplanetary space, potentially providing a low-cost alternative to traditional large satellite missions. An example of this potential was using CubeSats as secondary payloads on the Artemis I mission. However, interplanetary SmallSat missions face a range of technical and operational challenges due to their demanding operating environments and ambitious scientific goals. Additionally, there is a lack of suitable engineering processes and standards tailored for missions of this type. Thus, this study aims to present a set of common knowledge on the specific difficulties these missions face. This knowledge was gathered using several methods, including a developer summit, interviews with mission leaders, mission surveys, and an extensive literature review. In addition, first-hand accounts from mission developers on the specific challenges faced, and the solutions they recommended were recorded. The study also investigates the difficulties faced by missions of this type and their degree of impact on development compared to typical Earth- orbiting SmallSat missions. As a result, suggestions to lower the risk and costs for future missions are made. These range from development, operation, documentation, and review approaches to team composition, parts selection, qualification, and shared tools and facilities. Moreover, the study creates a standard framework for preventing and overcoming many of the problems encountered by past missions. It outlines customized systems engineering and project management models and standards that can serve future missions in the development and operations phases. These focus on the system development approaches, resource management, hardware selection and qualification, risk management and mitigation and the technical standards for different subsystem design, testing and validation. The proposed models aim to ease the development cycle of future missions from both a systems management and technical perspective.
"Study of Small Satellite Constellation for High-Resolution Greenhouse Gas Monitoring"
Coordinated by Andrew Karim
The seriousness of the climate crisis has called for international efforts to drastically reduce greenhouse gas (GHG) emissions. This has been seen through international treaties, such as the Paris Agreement, in which 196 parties have committed to limit the global temperature increase well below 2 degrees Celsius above pre-industrial levels, and the Global Methane Pledge, which counts over 110 countries that have pledged to cut their methane emissions by 30% during the present decade. 
In order to evaluate the success of these objectives, precise greenhouse gas monitoring is necessary. In-situ networks can provide accurate surface measurements, but offer very sparse coverage and must therefore be complemented by satellite data. Many earth observation satellites, such as JAXA's GOSAT and ESA's Sentinel-5P, measure greenhouse gas using passive spectrometers that observe reflected solar light. However, these instruments are blind in high-latitude dark regions, suffer from low measurement sensitivity in the lower troposphere and are affected by undetected aerosol layers and thin ice clouds. This hinders measurements in northern areas or for offshore operations, notably in the oil and gas industry, which is a sector that presents both high emissions and high uncertainties. 
This paper aims to improve the capacity of existing GHG monitoring systems by presenting a cost-effective conceptual small satellite constellation mission design based on a novel payload for active remote sensing of CO2, CH4 and N2O with high temporal and spatial resolution. First, this paper presents a review of current small satellite missions and industrial needs to determine the mission requirements and current gaps in GHG emission monitoring. The mission parameters, such as the satellites' footprint, swath, observation frequency and revisit rate, are then derived to ensure high quality of data collection and temporal resolution. Finally, the proposed spacecraft design is presented, which is equipped with an active LiDAR (Light Detection and Ranging) instrument in combination with a passive spectrometer supported by enhanced fusion algorithms and the latest state-of-the-art satellite architecture, enabling increased sensitivity to GHG independently of surface contrast, sunlight, cloud coverage or atmosphere composition.
"A Feasibility Study For Project Giga: Using Satellite Constellations To Provide Internet To Disconnected Schools"
Coordinated by Daniel Wischert
This paper will analyze the growth of interest in the small satellite communications sector and to afford background knowledge on the technological capabilities of current providers. A feasibility study is performed to assess the main actors in the field and their ability to contribute to Project GIGA's ultimate goal of connectivity for every school. Through a multifaceted lens, the paper identifies the benefits and potential obstacles of constellation-based satellite broadband internet. Where necessary, possible solutions and workarounds are explored to allow a coherent assessment on the practicality of Project GIGA's connectivity objective. With this research Project GIGA will have a baseline to begin their outreach and development initiatives.
"Machine Learning for Earth Observation Small Satellites: A Review"
Coordinated by Pablo Miralles
While satellite image processing has benefitted massively from the ongoing AI revolution, the same cannot be said for other aspects of the Earth Observation industry. This project's aim is to act as a bridge between the Earth Observation small satellite community and the machine learning community, highlighting potential opportunities. We will develop a State of the Art review exploring all on-board and off-board applications of Machine Learning to Earth Observation outside of image processing on ground. The review is to be published at a main space industry venue and it will be complemented by outreach material to expand on noteworthy concepts found during its development.
"Mission Design for In-Orbit Demonstration of Active Debris Removal through an Ion Beam Shepherd Small Satellite"
Coordinated by Ricardo Colpari
The continuous use of Low Earth Orbit (LEO) poses several risks when companies focus on near term business success rather than long term sustainability and safety of operations. This project explores the technological challenges of one of the mission concepts for active debris removal, i.e.: the Ion Beam Shepherd, and proposes strategies and the required steps to propose a demonstration mission, this includes proximity operations, on-orbit inspection and the possibility to perform contactless deorbiting of a non-cooperative target in order to achieve safety of operations. An overview of the different approaches is provided, analyzing the current architectures and technologies.
"A Review of Near Future Optical Technology for High-Speed and Secure CubeSat Communications"
Coordinated by Muhire Desire
The next generation of high speed and secure communication is envisioned using Lasercom photonic modules. These components allow great compactness and efficiency of use suitable for CubeSat type satellites. How they will be integrated into existing RF systems remains an ongoing topic. This project follows the current technological readiness of lasercom and their integration into small satellites.
"Analytical Demonstration of Artificial Intelligence Assisted Swarm CubeSats for Active Debris Removal in LEO "
Coordinated by Nijanthan Vasudevan
Space debris is considered as a serious problem it has to averted as it has the potential to be a spoilsport for any space missions. In past decades numerous Space debris capturing and removal methods have been proposed. However, the amount of debris in the LEO orbit rather than decreasing it just accumulated even before. This paper aims to bring a new, economical and efficient solution to remove space junk. using swarm robotics technology The paper discusses the functionality and feasibility of the proposal. In addition to that, it explains how this concept can be effective comparing to other past proposals and describes how the prototypes will be developed.
"Small Satellites potential for Greenhouse Gas and CO2 Monitoring"
Coordinated by Daria Stepanova
Small satellites can improve the global emission mapping coverage and image update rates, which will improve the understanding of the CO2 and GHG dynamics. Today there are several small satellite missions carrying hyperspectral Short-Wave Infrared Imaging (SWIR) imaging instrumentation, providing gas emissions data. However, alternative missions, instrumentation combinations and satellite architectures are possible. This paper aims to analyse the requirements for the emission sensing instrumentation for the installation on the small satellite platform. It is reviewed together with small satellite platform architecture and the use cases. From that, the rational mission profile for small satellite utilisation for the monitoring is derived.
"Low-Thrust Trajectory Design and Mars Orbit Insertion Strategies for Interplanetary Cubesats"
Coordinated by Daniel Wischert
This paper focuses on interplanetary CubeSats in Mars orbit. It considers Earth-Mars trajectory design from launch to Mars Orbit Insertion (MOI). Three CubeSat options (3U, 6U and 12U) are assessed and compared, taking into account different low-thrust propulsive technologies such as gridded ion thrusters and Hall-effect thrusters. Several options for orbit capture at Mars are evaluated to cover different mission profiles depending on the arrival conditions and targeted orbital parameters. In this context, this research paper provides a useful baseline for the trajectory design of interplanetary CubeSats missions to Mars and shows that CubeSats can successfully be integrated to support interplanetary missions.
Concluded Research Activities
"Optical Communications for Small Satellites: A Review of Pointing Strategies & Requirements Optimization"
IAC 2020 – Read PDF
Research Objective: Analysis of a new communication technology limitations in application to small satellites.
Support organizations:  Scanway and German Orbital Systems GmbH
Authors:
Muhire D., Stepanova D., Santra S., Baranwal P., Romero M., Amrutkar R., Bonnart S., Jha D., Zucherman A.
"Conceptual Design of a Mars Constellation for Global Communication Services using Small Satellites "
IAC 2020 – Read PDF
Research Objective: Analysis of demand and use-cases for future Mars constellations and feasibility study of a smallsat constellation to provide global communication services on Mars.
Support organizations: Crowdspace
Authors:
Wischert D., Baranwal P., Bonnart S., Álvarez M., Colpari R., Daryabari M., Desai S., Dhoju S., Fajardo G., Faldu B., López-Contreras González E., Low P., Malcolm K., Mardhani S., Miralles P., Mohanty J., Morchedi S., More H., Ortega-González H., Parasuram S., Romero M., Santra S., Somkuwar A., Soni K., Stepanova D., Thangavel K., Vinayak Bhale K., Zainab R.