News
Thank you for your Generosity: Two Scholarships Funded for 2024 during the 2023 Alumni Donation Campaign!
We are thrilled to share with you the exceptional result of the Alumni Donation Campaign – a first of its kind! Between September 28, 2023 and October 13, 2023, all donations to the Alumni Fund were pooled, and the outcome is truly remarkable. Thanks to your extraordinary generosity, we are now able to fund two additional SGLA scholarship in 2024!
Your support: nothing short of remarkable.
In total, we had the privilege of 20 dedicated donations who contributed a generous sum of $5107. This remarkable contribution will be evenly divided to create not one, but two scholarships. The impact is immeasurable, as it paves the way for future SGAC members, empowering them to follow in our footsteps, learn, grow, and make their mark in SGAC..
Thank you for your unwavering support and dedication!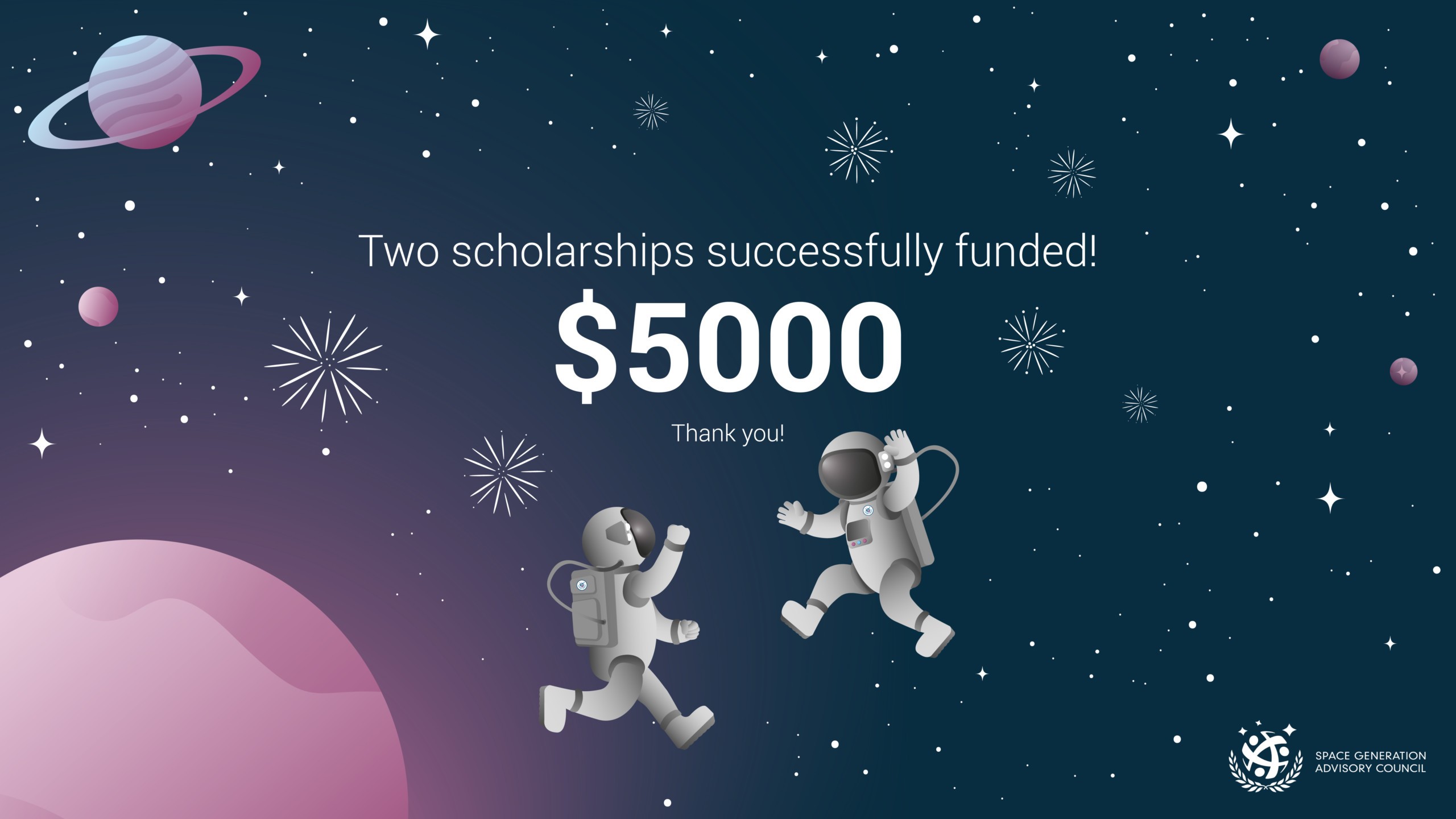 Giving Back
Our alumni have many stories of how SGAC has changed their lives. Through being part of SGAC, our alumni have made important connections, found their career in the space industry, and most important of all, made lifelong friends. However, there are still many barriers for our members to become an active part of SGAC. SGAC recognises that financial cost remains one of the biggest barriers for our members to attend our events.
In 2018, the Alumni Fund was launched to provide a way for our alumni to directly support our members.
All gifts to the Alumni Fund will be directly used to support the ongoing activities of SGAC. Even a small contribution can be a great asset to our members and change their lives, visit the https://spacegeneration.org/scholarships website to learn more about the incredible scholarship stories of our SGAC members and all the opportunities available to them.
Impact
Your donation is pooled which means that even smaller contributions can make a difference, e.g. to fund scholarships for members to attend regional events or to support general activities of SGAC.
If you would like your donation to be used for a specific event or scholarship, please indicate this during the process.
Donor Level
Donation
Donor Benefit
Terra
Up to $10 monthly
($120 annual)

Personal thank you from the Alumni team including a request to be featured on SGAC Alumni website. 

LEO
Up to $20 monthly
($240 annually)

Personal thank you from the Alumni team including a request to be featured on SGAC Alumni website. 

Lunar
Up to $50 monthly
($600 annually)

As above plus public thank you on social media (if desired). 

Mars
More than $50 monthly
($600 annually)

As above plus dedicated public thank you on social media and feature in SGAC Alumni Newsletter (if desired).
How does our Alumni Fund work?
All donations are processed online in US dollars. You can pay the donations using a credit card or through bank transfer (US only). We collect your name and email address in order to recognise your support; however, anonymous donations are also accepted. You may also provide a mailing address (optional) which we will use to send a personalized thank you. We would also love to publicly recognise your contribution to SGAC on the SGAC website. 
Your donation will go directly to SGAC activities. In addition, you have the option of covering the payment processing fee, which ensures that SGAC does not have to bear this cost and that your donation reaches its full impact. All donors will receive an automated receipt for their donation.
Space Generation Leadership Award Winners 2021
Contact Details:
For further information regarding the alumni fund or to discuss dedicated or larger donations, please reach out to 
Tax Deduction Disclaimer
The Space Generation Advisory Council (SGAC) is registered as a 501(c)(3) non-profit organization in the United States of America (USA). Contributions to SGAC are tax-deductible to the extent permitted by law. The SGAC's tax identification number (EIN) is 45-0473253