SGAC is a non-profit organization dedicated to students and young professionals (aged 18-35) in the space sector. Our aim is to represent the voice of the next generation in space policy and provide opportunities for professional development to young members of the space community. 
SGAC is registered as a non-profit in Austria, headquartered in Vienna, that includes the Executive Committee, Advisory Board, and all SGAC members. In 2001, SGAC established a 501c(3) non-profit organization registered in the USA, a separate SGAC entity for supporting SGAC operations in and from the USA.
SGAC Austria Governance
SGAC Austria is governed in accordance with a set of Statutes and Bylaws, updated annually. The SGAC Statutes provide the framework for the operation of the organisation, while the Bylaws provide further information and mechanisms for improved operation.
The SGAC strategy outlines and provides guidance on the strategic direction of the organisation.
SGAC is a 501c(3) nonprofit organization registered in the District of Columbia, USA in 2001
See SGAC's profile on Guidestar 
The US Board of Directors includes:

Class A: Independent senior members of the space Industry

Class B: SGAC Chairs 

Officers: President, Treasurer, Secretary
Information about the US entity of SGAC can be found on: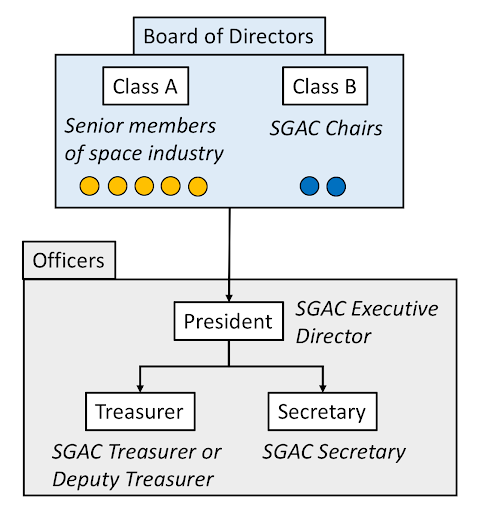 US Board of Directors
The Board of Directors of the US Entity currently consists of:
Class A directors: 

Anthony Yuen
Carissa Christensen (Chair)
Chris Johnson 
Lance Bush 
Marshall Smith
Michael Brett 

Class B Directors:   

Hamza Hameed, SGAC Chair 
Antonino Salmeri, SGAC Co-Chair
SGAC Endowment Fund 
A key role of the US Board of Directors will be to support the establishment of the SGAC endowment fund. We have recently received a generous donation from Blue Origin's Club for the Future and intend to invest a substantial portion to provide recurring revenue to support long term growth for SGAC and sustainably provide more scholarships that enable access to international, regional, and local space events for our members. 
About the SGAC US Class A Directors