Hosted by the Politehnica University in Bucharest (UPB), on 9-10 March, this year's ESGW will take place within the premises of UPB's new Library building.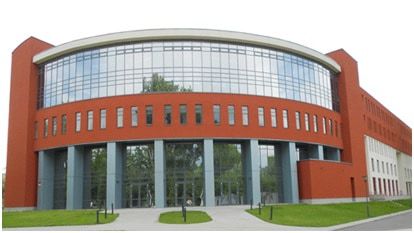 Address: Biblioteca Centrala, Splaiul Independenței, 313, București 060042, Romania
Access:
Situated at the heart of the student district, the venue is within walking distance of three metro stations connecting you to the city center (Unirii Square).
Metro Stations:  Grozavesti (M1), Petrache Poenaru (M1) and Polytehnica (M3)
Social Events:
Optional Dinner (Pre-Workshop Optional Dinner)
Thursday, 8th March, 20:30 – 23:00
Location: Linea Closer to the Moon Bar
Address: Calea Victoriei 17, Bucharest 030023, Romania
Description: The place is a perfect location for informal and friendly meetings, situated in the old city of Bucharest. It is an amazing place, with fantastic atmosphere which offers also tables in igloos on the roof, allowing an impressive image over the roofs of Bucharest.
Comment: This dinner is not included in the delegate attendance fee, so it will be on your own expenses. It is a good opportunity to have the dinner together, to get to know each other before the workshop. We have reservation starting from 8:30 P.M.
Cultural Night
Friday, 9th March, 19:30 – 23:00
Location: Mezanin Space
Address: 23-25, Actor Ion Brezoianu, Palatul Universul Building, Corp B, Bucharest, Romania
Description:. During this evening, every delegate should contribute to a show of around 5 minutes per country that presents his/her country traditions or customs. Music, dance, quiz, presentation, sketch or any other creative ideas are welcome. Present your country in such a unique way, so that the others will always remember it. It is recommended and allowed to bring something from your country to drink and/or to eat, since the resources for a long open bar might be limited. The place has tables, chairs, beamer, audio system, computer and dancing space so feel free to be creative in presenting your country with your fellow country(we)men. The order each country show will be random and announced at the beginning of the evening, so make sure you will not be late.
Gala Dinner
Saturday, 10th March, 19:30 – 23:00
Location: Palatul Ghica Victoria
Address: 1, Nicolae Iorga Street, Bucharest, Romania
The 2nd E-SGW closing dinner will take place in a palace in the heart of Bucharest. Ghica Palace is a landmark of history and heritage, a spectacular premium location for stylish banquets and receptions. Delegates will enjoy dinner while tasting the époque elegance of 1880s. You can hardly find a more glamorous way to end the 3rd E-SGW than a renaissance palace.