SGAC is proud to present the February 2023 Member of the Month!
SGAC is delighted to recognize members who are committed to its development; those who show hard labour and total dedication to the mission and purpose of the organisation. For February 2023, we are pleased to announce and congratulate Megha Choudhary!
Meet Megha Choudhary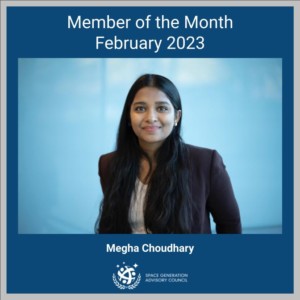 Megha is a first-year student at ISAE-SUPAERO in Toulouse, France, pursuing her master's in aerospace engineering with a specialisation in Space Systems. She completed her bachelor's in Electrical and Electronics Engineering at Vellore Institute of Technology, India. She has previously served as the Vice-Chair of SEDS India, Chairperson of SEDS-VIT, and the Expansion Chair of WoAA International. Within Space Generation Advisory Council (SGAC), she serves as the NPoC of India and is a member of the Human Resources Team and the Mentoring Committee. She is also heavily involved in the OGL Project Group, working with the team to increase the diversity in astronaut selection.
The recipient of the NASA SCaN Scholarship 2021 and the TSAE Scholarship, her interests include orbital mechanics, spacecraft navigation, and planetary science. As a woman of colour, she is passionate about advocating for diversity and inclusion and wants to help make space accessible for everyone. She likes to read fiction, draw, debate, and go on walks in her free time.
Megha's role as part of the SGAC team: 
Megha is the Onboarding Manager in the Human Resources team at SGAC. She is also the National Point of Contact for India and has served as a member of the Mentoring Committee in the past. She has been involved in the organisation of numerous SGAC events, including SG[India] 2022, OGL Hackathon 2022 in South Korea, OGL Hackathon 2023 in Canada and the Space Generation Congress 2023. She is also a member of the Our Giant Leap and the Space Exploration Project Groups.
Megha, share with us your reaction to receiving the nomination:
It was an incredible honour and surprise to have received this huge award! I would like to thank the SGAC team whose support and guidance over the past two years have helped me grow and I can only hope to do the same for others in the wonderful SGAC community.
What learnings have you got for those considering joining SGAC? 
SGAC has the potential to completely change your life! The soft skills and insights you gain when you meet and network with people from around the world is incomparable. You will make lifelong friends here and joining SGAC is an experience you will surely never regret!
Would you like to share with us a special quote you feel guided by, or how would you motivate others to stay focused on their goals?
"If the plan doesn't work, change the plan, not the goal."