SGAC is proud to present the Member of the Season 2022!
SGAC is delighted to recognize members who are committed to its development; those who show hard labour and total dedication to the mission and purpose of the organisation. For June-August 2022, we are pleased to announce and congratulate an exceptional organising team whose efforts further connected the space community in the Asia Pacific Region and more: Our Giant Leap Hackathon 2022 Organising Team!
Meet the Our Giant Leap Hackathon 2022 organising team!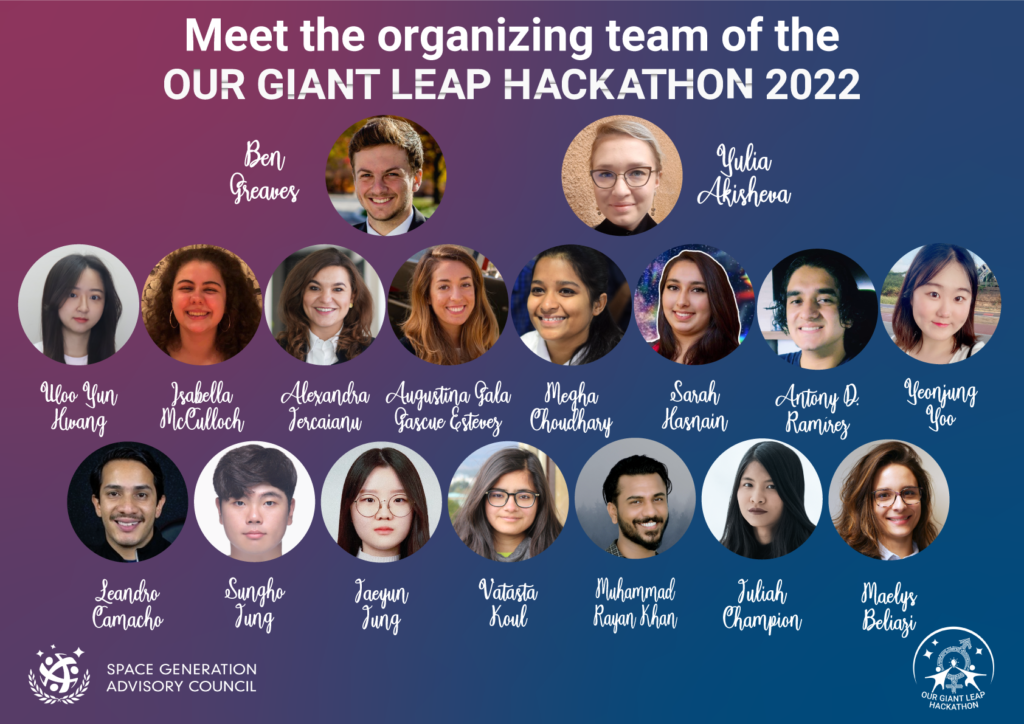 We, the Our Giant Leap Hackathon 2022 organising team, have a diverse set of skills and backgrounds – which was a strength for the organisation of this international hackathon in South Korea!
We are artificial intelligence engineers from Costa Rica with a lot of experience in hackathons, PhD students in lunar exploration in France and great public speakers, agricultural engineers working on space food, artists and designers… and a lot more!
OGL Hackathon Organising Team's role as part of the SGAC team
Some of us joined the organising team already being part of the Diversity and Gender Equality Project Group – we also call ourselves Giants as we are the Our Giant Leap team. Others joined the event organisation as their first experience with SGAC. Today, the Our Giant Leap Hackathon 2022 team members continue working within the Diversity and Gender Equality PG on diverse projects, prepare the next hackathon edition, and hold other positions within SGAC – as for example the Asia-Pacific Communications Manager.
OGL Hackathon Organising Team, share with us your reaction to receiving the nomination:
When deciding to create such a first-of-its-kind event, we knew there would be significant challenges to overcome. But by drawing on the diverse skills and experience of our team, our two-day event in South Korea was a great success and allowed us an inspirational start to build similar hackathons in the future! The hackathon brought together new ideas for gender equality actions on Earth. Receiving this award is gratifying and it means that our efforts made a mark!
What learnings have you got for those considering joining SGAC?
While our event was initially received internally with uncertainty, the energy and overall sense of international community within SGAC helped the Our Giant Leap Hackathon develop into a real success both for the Diversity and Gender Equality (DGE) Project Group and the entire SGAC organization. Through initiatives like this, the DGE Project Group is excited to be leading the way in expanding SGAC both geographically and in the discipline. This event showed how, no matter your background, you can build solutions as part of the space community. This is what it feels like to be part of SGAC – join us!
Would you like to share with us a special quote you feel guided by, or how would you motivate others to stay focused on their goals?
'PURA VIDA' – literally living the pure/good life in Spanish, this became our team motto for the hackathon – introduced to us by our favourite Latino in the team, Leandro CAMACHO, Event Manager for the Our Giant Leap Hackathon 2023. This mantra allowed us to stay upbeat and motivated as we built our event and was often exclaimed in celebration of our event's culmination.