SGAC is proud to present the January 2022 Member of the Month!
SGAC Membership has been steadily growing throughout the years and among our teams there are many incredible young space enthusiasts who are being recognised for their hard work and contributions to the organisation. Continuing the amazing efforts SGAC members and events organizing teams have provided the network with, for January 2022, we are pleased to announce and congratulate: Tensae Alemayehu ALI – Member of the Month, January 2022!
---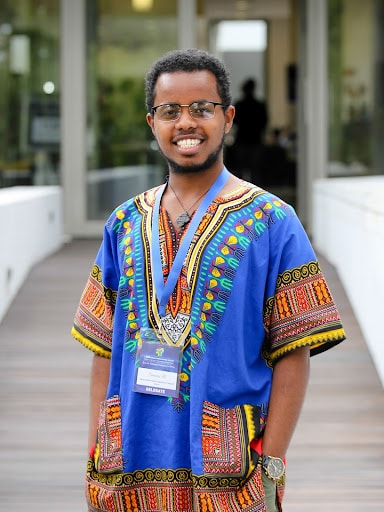 Meet Tensae Alemayehu ALI

Tensae is a final-year Mechanical Engineering student from Mekelle University, Ethiopia. He's currently working as the Regional Coordinator for Africa at the Space Generation Advisory Council (SGAC). In previous years, Tensae has been working with the SGAC Regional and Local Events Coordination Team and as the National Point of Contact for Ethiopia. In 2019, Tensae led the local organizing Team at the 3rd African Space Generation Workshop held at the UNECA in Addis Ababa. Furthermore, he has been a functioning member of the Ethiopian Institute of Technology-Mekelle Council (EiT-M) since September 2018 as a student representative for academic affairs. He has completed a prestigious summer aviation technology training under the auspices of the Presidency of Turkey and the organization of Yunus Emre Institute and TABiP. Since 2020, he has earned his dual honors degree from Mekelle University, Ethiopia, and Thomas More University of Applied Sciences, Belgium. In 2021, Tensae was one of the five recipients of the Global Grants Programme of SGAC and awardee of the African Space Industry Top 10 under 30, Space in Africa's premiere award.
Tensae's role as part of the SGAC team: 
"I currently work as the Regional Coordinator for Africa, along with Rania. In addition to my responsibility to oversee the activities of NPoCs, streamline the regional planning, and advise our regional workshop, I believe my role is making sure Africa feels, utilizes, and contributes to the vibrance of the global SGAC network by creating a favorable environment for new initiatives that have collaboration at its heart."
Tensae, tell us what was your reaction to receiving the nomination?
"Going through my latest inbox, I was preparing to congratulate this month's awardee, seeing the subject line. Only right until I knew it was me that everyone was saying congratulations. I was pretty surprised upon receiving the recognition as I have been working with people filled with great inspiration and contagious energy that inspires me everyday.
I'm immensely grateful for all the support and guidance I've received through SGAC's leadership, members, and global network."
What learnings have you got for those considering joining SGAC? 
"SGAC is your launchpad. It is your place to get the right international exposure in the space industry. It is with SGAC's volunteering opportunities I've developed my future-proof 21st Century skills, it is with SGAC's scholarships I had an eye-opening conference that enabled me to tap on its worldwide network. SGAC is the place where my growth is assured in every step I take. SGAC is my go-to place, to nurture your interdisciplinary, intercultural, and international traits. But most of all, it's my place where I met incredible human beings I attest to be great friends."
Would you like to share with us a special quote you feel guided by, or how would you motivate others to stay focused on their goals?
" The major question to ask on the job is not "what are you getting?", the major question to ask is "What are you becoming?".
The big question is not "What am I getting paid here?", the big question is "What am I becoming here".
Because true happiness is not contained in what you get. Happiness is contained in what you become – Jim Rohn"