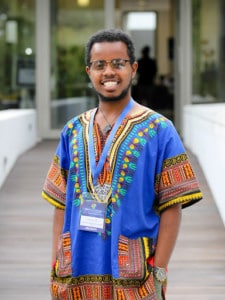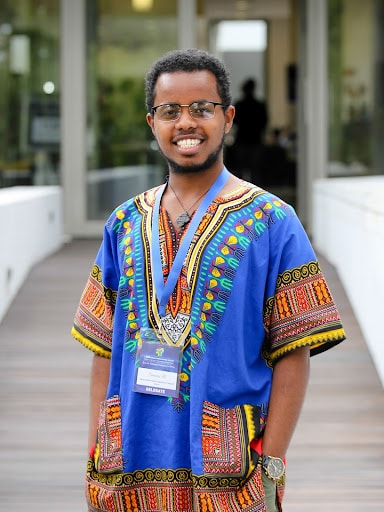 Immersed in the concept of Space Science and Engineering at a young age, he derived himself to take part in the space sector aided by wisdom and leadership. Tensae Alemayehu Ali is a Mechanical Engineering graduate from Mekelle University. He is currently working as the Regional Coordinator for Africa at the Space Generation Advisory Council (SGAC). Formerly, he has worked as SGAC's Regional and Local Events Coordination Team and as the National point of contact for Ethiopia. He is also a member of the IAF Administrative Committee of Developing Countries and Emerging Communities (ACDCEC). At national level, he has Co-Chaired the Executive Mekelle Branch office of the Ethiopian Space Science Society (ESSS). He has carried out remarkable outreach activities in Addis Ababa and Mekelle. He has been engaged with the ESSS since 2012 and was named the ESSS Youth Space Ambassador in 2019 for his unwavering commitment to the awareness creation movements and outspoken advocacy work of the sector. He has completed a prestigious aviation technology training under the auspices of the Presidency of Turkey and organization of Yunus Emre Enstitüsü.
In September 2020, he earned his dual honors degree through a joint program of Mekelle University and Thomas More University of Applied Sciences which covered a unique curriculum called Moonshot-Ethiopia starring in Innovation, Creativity, and Entrepreneurship. He has received Space In Africa's premier award, Top 10 Under 30 African Space Industry Award – Class of 2021. Tensae was one of the five recipients of the Global Grants Programme through SGAC in 2021, as well as Member of the Month for January 2022.
History with SGAC
I was just 16, and at a cafe where I found myself in a meetup with former NPoC for Ethiopia, Dagmawi Mekonnen and former RC for Africa, Beza Tesfaye. I was pretty fascinated with what I heard in regards to the overall program and the social events of SGAC's global conferences. That night, excited and all, I signed up with a bogus email account and applied for the upcoming SGC in Toronto, Canada and SGFF in Colorado, U.S.A. Though I wasn't 18 yet, the essay I wrote about my activities at the Ethiopian Space Science Society helped me get accepted as a delegate for both flagship events. Upon proceeding to registration, I wrote a quick email to the then Executive Director, Andrea Jaime and I quote "Is there a free place? I'm only 16 and can't afford to pay that money". Though I was certainly not going because of the age restrictions, I got a very encouraging email from her saying I should pay a visit once again after turning 18. Aiming at keeping the zeal, I continued assisting the NPoCs with Yuri's night and World Space Week Celebrations.
Since turning 18, I resumed writing applications for various events and vacancy postings. Unfortunately, none came positive.
I still can vividly remember that day… Upon the return of 3 delegates from the 2nd African Space Generation Workshop (AF-SGW) in Mauritius in 2018, Beza and I sat together to draft and bring the next AFSGW to Ethiopia. Months later, our bid won and I became the Local Organizing team lead whereas Beza got to be the Event Manager. That was when my official SGAC volunteering journey began. Thanks to a wonderful organizing team, we had a very successful workshop.
My yearning for stronger involvement at SGAC was just getting started. As I knew the workshop position I had would conclude right after the event, I was sniffing in for other opportunities and luckily by the end of 2019 landed at the Local and Regional Events Coordination Team. Well in advance of the conclusion of the workshop, I already had a fantastic team from across the globe I could lean on and learn from. In parallel, I also got to become the National Point of contact for Ethiopia and gain the proper audacity to represent SGAC at a national level and introduce SGAC to the brilliant minds I get to meet at various outreach events I take part in.
A year and a few months later, I stepped up in becoming the regional coordinator for Africa. A courageous move I would say, given my yet growing knowledge of SGAC and its admirable leadership.
I would say my past ~3 years at SGAC have been at an exponentially fast-growing track as that's how SGAC is, constantly growing! Since 2021, I have joined SGAC's Executive Board, named African Space Industry Top 10 Under 30, received SGAC's Global Grants, attended my first ever SGC in Dubai, Member of the Month for Jan. 2022, won the Global Satellite Tracking Initiative, authored two papers for the International Astronautical Congress, joined an administrative committee at the International Astronautical Federation (IAF) and most delightedly selected as one of IAF's Emerging Space Leaders.
This award has its high in my heart. It also makes me wonder how I would deserve this prestige looking at myself amongst many other well-accomplished pioneers over this batch and previous years. Hence, I am grateful and take this golden pin as my gravity assist to a higher orbit in the space sector I thrive to leave my marks on. I thank SGAC in its entirety, the deciding jury and my nominator, Tumo (Botswana), for your respective contribution and guidance in making this lapel bestowed on my blazer.