Results of Regional Coordinator Election in the African Region
SGAC held elections in August/September to elect the next Regional Coordinator (RC) in the African Region. We are happy to announce that Nelly-Helen Ebruka (Nigeria) has been elected as the Regional Coordinator for Africa.
Detailed election results and the profile of the applicants follows. 
Election Report
The election received three applications for one regional coordinator position.
20 NPoCs out of 53 took part in the election, with the following result:
Imane El Khantouti (Morocco)  – 35%
Nelly-Helen Neji Ebruka (Nigeria) – 40%
Samuel Nyangi (Kenya) – 20 %
Abstained – 5%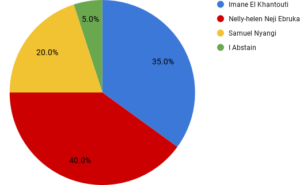 About Nelly-Helen Neji Ebruka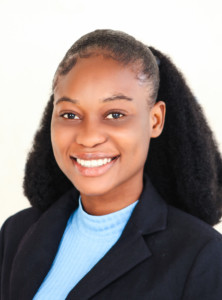 Nelly-Helen Neji Ebruka is a lawyer and space advocate, promoting space awareness in Africa through public speaking, storytelling, and collaborations with public and private entities for student and young professional capacity-building projects. She's a member of the International Institute of Space Law with academic research background on International space law, disarmament, and peaceful uses of outer space for human security through diplomacy. Nelly also volunteers as the National Point of Contact for the Space Generation Advisory Council in Nigeria and contributes to youth engagement in the African Space Sector through her role in Spacehubs Africa. She previously worked in the legal cell of the Defense Space Administration Nigeria.
Currently, Nelly is a Commonwealth Scholarship awardee pursuing Diplomacy and International Relations at St Mary's University, Twickenham, London. She's a recipient of the African Space Leadership Award and recognized as one of the top 10 under 30 young Africans contributing to space development in Africa. In her leisure time, she enjoys reading books and writing , playing the acoustic guitar, and studying apologetics.
This is what Nelly-Helen had to say about her election
I am deeply honored to serve as an African Regional Coordinator for the Space Generation Advisory Council. My commitment is to continually inspire and harness the potential of young Africans . Together, we'll drive creativity into tangible projects that contribute to Africa's development through space technologies and advance the peaceful uses of space.