"Zoom is our best friend now" and other 2020 tales from the Events Coordination Team
Alongside its Global Events and the various organizing teams, SGAC has a top-notch Events Coordination team that supports the organization of more than 30 events every year. How did the team fare in 2020? This was definitely a peculiar year, full of challenges and tough times for all. As the year is at a close, it is interesting to look back at it: SGAC heavily relies on events to function and to achieve its goal of connecting young people of the space sector, making their voices heard. Despite the pandemic, SGAC members and active volunteers managed to quickly adapt to the situation and get the best out of the circumstances, possibly providing plenty of new space opportunities where usually there were none to few.
The first months of the years were buzzing with activities and preparations: reports and lessons learnt from the last Space Generation Workshops (SGW) of 2019 were finally rolling in, while the European SGW in Madrid and the North and Central America and the Caribbean (NCAC) SGW in Mexico City were excitingly getting closer. Then the pandemic hit.
The outbreak around the world made it necessary to halt preparations. The Event Organizing Teams, with the support of SGAC Global teams, worked hard on contingency plans and strategies, while making sure to keep delegates and partners informed.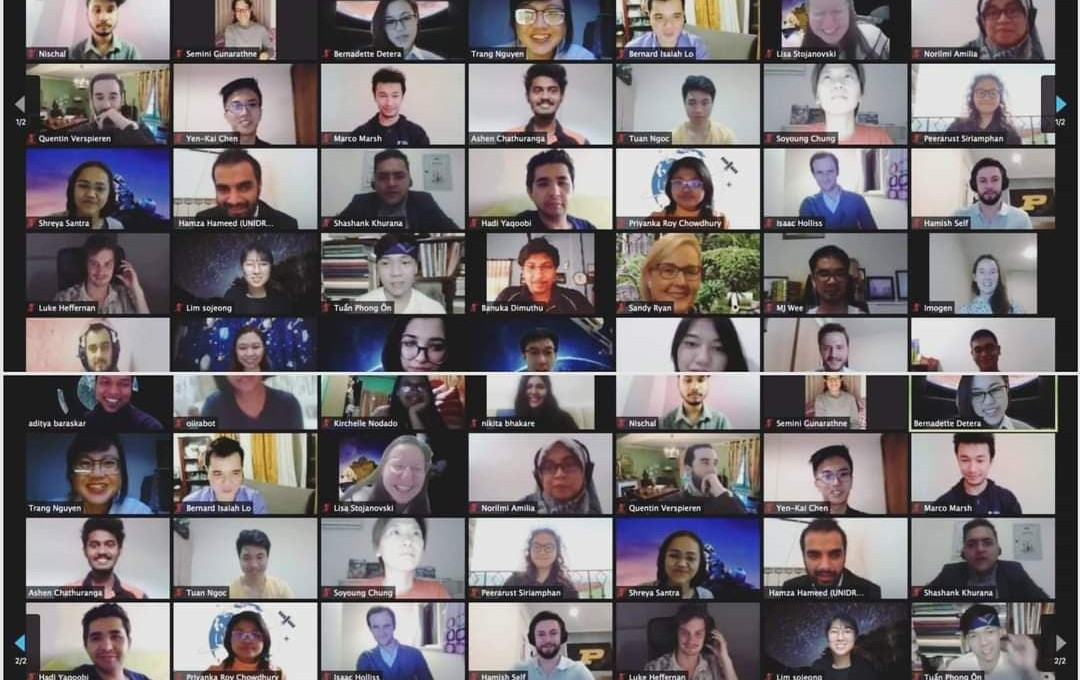 With an organization relying on events to build its network, and with hundreds of people stuck at home, what could SGAC do to make the best of the situation,  cherish its members and provide visibility to its sponsors and partners? You might now be so tired of them, but you bet it – Webinars! Proposals from around the world started flowing in, and dozens of webinars on various topics were organized by SGAC members in different teams and project groups, supported and supervised by the Events Coordination Team. We put a calendar on the website and suddenly, anybody could tune in almost every day to listen to panel discussions, roundtables or funny quizzes.
At the same time, the year seemed still long, and the winter far away. In an effort to continue the planning of new events, SGAC started recruiting and onboarding teams to organize an African SGW and an Asia-Pacific SGW. In May, we were all trying to figure out what exactly to plan. Should have we gone for a risky in-person event? Would people feel engaged enough for an online alternative? What value could have we brought to sponsors and partners? Could we be able to recreate online the same lively discussions in working groups or during coffee breaks?
By August, we had finally acknowledged that this situation was going to last, and decided to do something about it. The team reached out to all twelve Regional Coordinators to strategize about 2020 and get ready for 2021. With a region-by-region approach, by the end of the month we had decided for: two regional events would have been postponed to 2021, while two additional ones would have been planned from scratch for next year. The final two space generation workshops would have been moved online in a new format: the Space Generation Online Workshops (SGOW) were born!
In September, a rushed year got even busier, as we had therefore to support the pivot to an online format for two regional events. Making the Asia-Pacific SGOW, and the NCAC SGOW a reality. Format became flexible and many questions arose regarding the fees, the platforms, the social activities to propose, the bearable length of sessions. With the Fall, we set to coordinate all teams to publish calls for delegates, gather sponsors and prepare programmes more apt for 2020 and the pandemic world.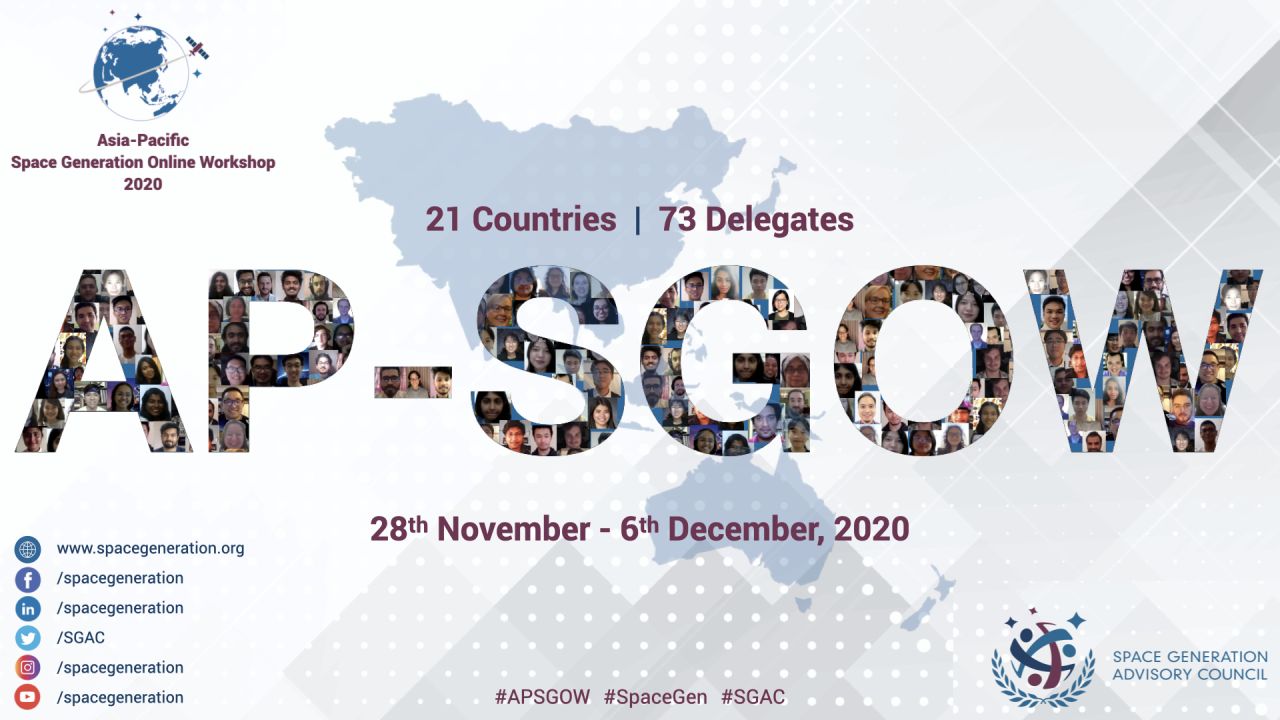 With December half-way through, both the Asia-Pacific SGOW and the NCAC SGOW were wrapped up successfully – with working groups, keynotes speeches as well as online social activities, networking sessions and even a karaoke! Besides regional events, more than 100 webinars were supported by the Events Coordination Team, reaching more than 10000 people from 100+ countries. Whilst the pandemic was unexpected, it didn't catch us off guard and we fought back.
Of course, networking, brainstorming and socializing at conferences and events cannot easily be replaced. Nevertheless, SGAC tireless volunteers have shown resilience and build together upon the values at the heart of our network, proving once again that the space community is full of awesome people.
We can't wait to see you all in 2021, hopefully in person, somewhere in the world!
Mehdi Scoubeau
Mehdi Scoubeau is a Space Systems Engineer working on deep space exploration missions at GomSpace in Luxembourg. He has previously worked for almost three years at the European Space Operations Centre (ESOC) of the European Space Agency (ESA). Mehdi has an Aerospace Engineering Degree from ISAE-Supaero in Toulouse, France and a M.Sc. in Mechanical Engineering from the University of Mons in Belgium. Moreover, he has been an active member of the Space Generation Advisory Council (SGAC) for more than four years, supporting events around the world. As a side project, he previously acted as Crew Commander during two Mars Analogue missions at the Mars Desert Research Station (MDRS) in the Utah desert, USA. Next to the space passion, he likes to read, boulder and hike or run.