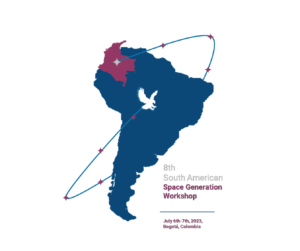 6th – 7th July, 2023
Hosted by 
Universidad de Ámerica
The 8th South America – Space Generation Workshop (8th SA-SGW) is an international event that aims to bring together students and young professionals to think and collectively create South American's future in space.
Countdown to
8th SA-SGW 2023
The 8th SA-SGW is a two day event made in partnership with Cydonia Foundation and Universidad de América, where students, young professionals, industry leaders and anyone interested in space exploration from the region and all over the world will have the opportunity to discuss and propose solutions to use space technology for the benefit of the region.
Workshop will bring 100+ students and young professionals from South America to discuss Space Related topics.
The 2 day workshop will be held in person in Bogotá, Colombia, at Universidad de América.
Workshop will be organized into 5 working groups focused on regional issues that can be solved through space applications.
A summary of the workshop will be shared with United Nations Office for Outer Space Affairs (UNOOSA) and partners about the recommendations / solutions discussed. 
(Photo from the 4th SA-SGW 2018 in Bogotá, Colombia)
Useful information
Registrations to attend the 8th SA-SGW 2023 are now open . For details of the next steps, see dedicated subpage registrations. Submision deadline: W

hile stocks last.

Applications for scholarships are open . It will be a great experience! Submision deadline: 21st May.
For questions or concerns regarding the registration process, please contact the SA-SGW Delegates Team at their mail address [email protected]