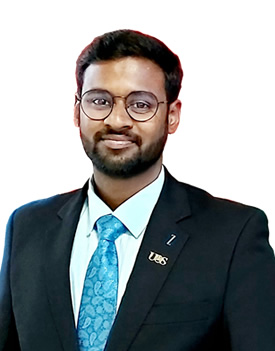 Sahith Reddy Madara is currently associated with Sharjah Academy for Astronomy, Space Sciences, and Technology (SAASST) as a Research Engineer – CubeSat Lab, and also acting as a UAE's National Point of Contact for the Space Generation Advisory Council (SGAC).  Prior to SAASST, Sahith worked on various positions which enabled him to gather valuable insight over the Space sector. Remembering here:
– Graduate Engineer Trainee at Collins Aerospace – A Part of United Technologies Corporation, 
– Aerospace Research Engineer (Apprentice) at Masdar Institute (iEnergy),
– Production/Design and Quality Engineer Trainee at Hydro Middle East, 
– Aircraft Maintenance Engineer Trainee at Air India Engineering Services Limited – Boeing 737-800 facility, 
– AME On Job Training (OJT) at Emirates Aviation Services.
Sahith kept his research spirit alive, having currently published 25 research and review papers at various International peer-reviewed journals, presented 10 technical papers, and been honored with "Best Paper and Presentation Award" thrice at various multiple International Conferences throughout the world. He's research interest over the past few years have mainly focused on Composite Materials and Structures, Cube-Satellite Technologies, 3D Meta-Materials, and Green Aviation. Amongst his noticeable accomplishments also being invited and honored as a Speaker, session chair, resource person, and technical committee member in various international conferences, hackathons, workshops, and events organized by, for instance, Azercosmos – NASA Space App Challenge, IFERP, Sharjah Education Council, UAE GCAA, MBRSC, Curtin University, IEEE, SGAC, RAeS, are a few of them. Sahith is a B.Tech. Aerospace Engineering graduate (Gold Medalist – "MOST LIKELY TO SUCCEED" Award Winner) from Amity University Dubai. Sahith is a firm believer in the fact that Innovation often occurs at boundaries of discipline and one should always be ready to go forth that extra step or put in that extra effort to overcome all the barriers to realize his vision.
Personal Blog: https://www.sahithreddy-aero.com/
Sahith has been nominated by four SGAC members:
Roman Mykhalchyshyn – NPoC of Ukraine
Sahith performed a lot for promotion SGAC in the Middle East as well as in the UAE. Also he was SGAC delegate at the 57 session of the United Nations Science and Technical Subcommittee. He had nice ideas during the SGAC Brainstorming session. He is a very active member of SGAC.
Mirta Medanić – NPoC of Croatia
Sahith is an active SGAC member. He promotes space science, technology and international collaboration to young communities and space agencies and companies, in UAE and the region. In 2019 and 2020, he took an active part in various space events where he represented SGAC. He was an invited speaker: at the Alleem Business Congress 2020 in Sharjah, UAE; at the 4th Young Professionals in Space Conference 2019, organized by Mohammed bin Rashid Space Centre in collaboration with IEEE in Dubai; and at the 22nd Humans in Space Symposium 2019, organized by the International Academy of Astronautics, to name a few. He was an invited speaker and jury member at the NASA Space App Challenge 2019, organised at ADA University in Baku by Azercosmos, jointly with the US Embassy in Azerbaijan. He is also supporting the SGC 2020 that will take place in October 2020 in Dubai. 
Furthermore, he was part of the SGAC Delegation at the 57th Session of the UN COPUOS Scientific and Technical Subcommittee in Vienna. Sahith is a good colleague and a hard worker. His work could be an inspiration to others.
Ahmed Baraka – RC of Middle East
UAE's National Point of Contact – Space Generation Advisory Council (July 2019 – Present)
INVITED SPEAKER & JURY MEMBER: Represented on behalf of Space Generation Advisory Council (SGAC) for the NASA Space App Challenge (Organized by Azercosmos, jointly with the US Embassy in Azerbaijan) from October 18-20, 2019 at ADA University, Baku, Azerbaijan.
INVITED SPEAKER: Represented SGAC at the 4th Young Professionals in Space (YPinSpace) Conference 2019 organized by Mohammed bin Rashid Space Centre in collaboration with IEEE, at the Dubai World Trade Centre from November 4th – 6th 2019.
INVITED SPEAKER : Represented SGAC at the 22nd Humans in Space Symposium (HIS) organized by the International Academy of Astronautics (IAA) in collaboration with Mohammed bin Rashid Space Centre in Dubai, United Arab Emirates from November 11th to November 14th, 2019.
Represented as a Delegate (from UAE) on behalf of Space Generation Advisory Council (SGAC) at the 57th session of the United Nations COPUOS Scientific and Technical Subcommittee at the Vienna International Center in Austria from 3rd February – 14th February 2020.
Srikanth Bavani – SGAC Member
Sahith Reddy Madara was recently appointed as the National Point of Contact for UAE and has been working hard to strengthen partnerships with SGAC in the region. His work has been inspiring the next generation space enthusiasts in the UAE region and is truly outstanding; he personifies everything that is great about SGAC and the space generation. He has spent the last few months traveling around the UAE and throughout the world, leading numerous space workshops in different universities and also represented SGAC at various International Conferences and Hackathons.
Sahith's reaction:
I'm incredibly honored to have been selected as SGAC Member of the Month (MoM) for February 2020. During my time with SGAC I've had the pleasure of working with many hard working and dedicated young minds of this decade, and I hope I will maintain the same level of diligence in my work in the forth coming years. I think what sets SGAC apart from all the other organisations are the amazing people in it. Thank you SGAC for this recognition!
Short quote Sahith feels guided by a personal thought:
Opportunities don't happen. You create them. The harder you work for something, the greater you'll feel when you achieve it.
From the SGAC Executive Director, Clemetine Decoopman:  
"Sahith is the National Point of Contact for the United Arab Emirates and as such he has done a fantastic job in looking at opportunities to expand SGAC in the country and finding new local partnerships. He has been participating in a number of conferences in the region to spread the word about SGAC and is now part of the Space Generation Congress 2020 Organising Team. As such, he will support SGAC in getting local students and young professionals involved and support the logistics efforts for the planning of the Congress. Sahith is a motivated volunteer who has the profound desire to contribute to the organisation's success and to bring space to the Middle-East."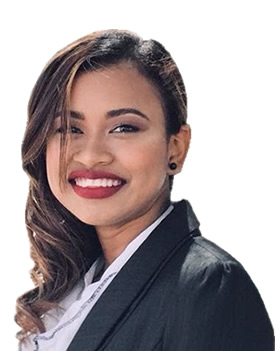 Saira Roxana O. Williams, also known as Roxy Williams, is an afro-indigenous descendant from the Caribbean Coast of Nicaragua. Roxy studied for two years Software engineering at Keiser University Latin American Campus and now she is studying Computer Science and Mathematics at Texas Tech University Costa Rica. She is passionate about science and technology, and she believes in inclusion not in discrimination. Roxy participated in the Aerospace Camp organized by the University of Costa Rica where she was able to build a solid propellant rocket with her team. 
Currently she is part of a research about data science and gender with the University of Washington, the UN University and Sula Batsu (organization that promotes women participation in STEM). Spare time is dedicated to being a mentor in a Female Hackathon of satellite technologies in the Caribbean part of Costa Rica, and speaker at international conventions,  worth to mention – the 1st CA-SGW (Central American Space Generation Workshop) which was held in Costa Rica. 
Nominees' motivations:
RCs of NCAC region 
During the last months Roxy has shown a great and genuine interest in supporting the development of a space and youth community in Nicaragua. Although it has been difficult due to distance, Roxy has already managed to establish an agreement with an important national astronomical society, as well as to coordinate and organize events while expanding the SGAC network in her country.  She is a leader in Nicaragua, in Costa Rica and an example for all young Latin-American girls interested in a space career. 
Bryan Medrano Ruiz – SGAC Member
Saira Williams known as Roxy Williams is an active member of the Space Generation Advisory Council – SGAC. In the last few months, she has worked really hard for the organization. Personally, I have known her for 5 years ago in entrepreneurship activities organized by Google such as Startup Weekend and other events related to the development of education in Nicaragua. Also, Roxy is known in Nicaragua for her great enthusiasm for motivating more Nicaraguans to get involved in the space fields and also for what she has been developing in the space industry. 
It is really important to mention her commitment to SGAC and the country. I consider she is a pioneer in motivating and recruiting more members for this community. First, making awareness of the importance and the impact of this field in Nicaraguan society. I am a great example of the people she recruited in order to be part of SGAC. She has got to ally SGAC with associations of amateur astronomers, which promotes education in the space industry in the population in general. A great achievement was that in December a collaborative event was done by SGAC and the associations focused on a Lunar Observation where more than 200 people attended (kids and adults) in the capital of Nicaragua, Managua. The same event helped to increase the number of members from Nicaragua for SGAC in which some young people decided to apply for the other position of NPoC. Roxy has been invited to participate in many events regarding women who have been in the space industry such as TICAS en el Espacio and she was also a speaker for the 1st Central American Space Generation Workshop. And lastly, but not least, she will be participating in the 36th Space Symposium as a volunteer, one of the most important events in the space industry. I consider Roxy the right candidate for this award since she has shown how committed she is and in her short time as NPoC she has made many Nicaraguans to get interested in space and to become members for SGAC.
Roxy's reaction:
First of all, I would like to thank Space Generation Advisory Council for letting me be part of this amazing SGFamily and for giving the chance to be part of a change. I also want to appreciate the people who nominated me. I will always use astronaut Franklin Chang Diaz's quote which is "No one gets somewhere without the push of somebody else". My peers are the ones who gave me that push and I am completely grateful for that. When I received the notification from Alina saying I received the award, I got super emotional. Receiving this appreciation fills me with enthusiasm and joy. Also, it motivates me to keep working hard in order to get more Latin American young people to get involved in the STEM area. 
Since I found my first love STEM and its greatness, I realized I did not want to have anyone left out. I wanted and I still want everyone to have that experience to see what it's like to get involved in the space industry.  In my country, talking about getting into the space industry is still considered an unreachable goal. And my aim with the support of SGAC, and the amateur astronomers' associations is to make Nicaraguans get interested in the space industry. Thanks for the whole support SGAC and for this award, I will work harder for my country's youth.
There are two personal quotes Roxy feels guided by in her pursuit of dreams:
"Never give up even when you seem to give up." 
"It does not matter from where you come because what matter is where you go."
From the SGAC Operations Manager, Matteo Cappella:  
"Since being elected as SGAC NPoC in July 2019, Roxy has kept showing great passion and dedication in everything she does both inside and outside the organisation, working hard to create new partnerships and opportunities in her country. With her energy and motivation, I'm convinced Roxy is and will be a source of inspiration for young people in Nicaragua and beyond. "