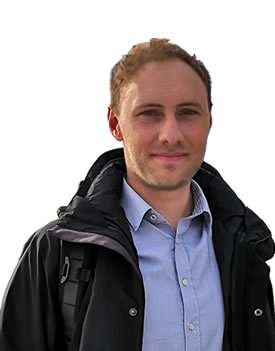 Daniel Wischert is a national trainee working in the Concurrent Design Facility (CDF) of the European Space Agency (ESA) at ESTEC in Noordwijk, the Netherlands. As a space systems engineer he supports the feasibility assessment and conceptual design of future space missions and new spacecraft concepts for all ESA programmes.
Daniel holds a M.Sc. in Aerospace Engineering from the University of Stuttgart, Germany. He is very passionate about pushing the development of human space flight and deep-space exploration activities and has been involved in different projects, mission proposals and research activities for DLR, ESA, NASA and JAXA. Three missions Daniel has worked on during his studies will be launching in the coming years – both SOURCE and Sentinel-5 2021 to low-earth orbit, and DESTINY+ 2023 to asteroid Phaethon.
Daniel has been nominated by five SGAC members:
Kjersti Bragstad – SGAC Member
"As part of the Delegates Team for Space Generation Congress 2019 Daniel worked hard for all the participants to have their best experience. I could see him in every break, walking around making sure everyone was ok and felt included. As SGC can be an overwhelming experience, this is a crucial quality that is often forgotten in our own excitement. He also wrote an endless amount of emails, ensuring that we all arrived prepared for the event."
Alexander Bowen-Rotsaert – SGAC delegate member SGC 2019 (and 2013)
"As member of the delegates team, Daniel has been front and centre of all communications to delegates and arguably the 'face' of the organising team until the SGC started. Ensuring a constant flow of information from before the event, Daniel continued to support a collegiate and inclusive environment for delegates throughout SGC."
Ksenia Lisitsyna – NPoC for Russia
"I met Daniel 2 years ago at SGC in Australia and since that I've been following both his work achievements and SGAC news. After this time I'm 100% sure he is made for space generation. He truly enjoys supporting new members, has dedicated a huge amount of time to SGC in Washington DC and did a great job helping the team to bring more people to the Congress."
Sana Amairi Pyka – SGAC Member and 5th E-SGW program team member
"I have seen Daniel be a very active member of SGAC in Europe. He has helped organize two major SGAC events in 2019 – E-SGW and SGC. Having been chosen to be part of the 2020 E-SGW organizing team myself, Daniel has offered me his assistance for upcoming questions. With this commitment to support SGAC I nominate him as Member of the Month."
Rannveig Marie Færgestad – NPoC Norway
"Daniel did a fantastic job communicating with the delegates of SGC 2019 prior to and during the congress. He was also a very including and welcoming host every day, making sure delegates had everything they needed and were on time for the programme. In general, a great combination of professionalism, humour and friendliness, and a great representative for SGAC."
 Daniel's reaction:
"Wow, what a way to start the decade. 
I am truly honored and grateful to be selected as the SGAC member of the month January 2020. Through its numerous events, SGAC has provided me with so many enriching experiences – both professionally and personally. 
Naturally, it was a real pleasure to give back and help organize both the European Space Generation Workshop in London as well as the Space Generation Congress in Washington DC in 2019. I highly value this community of bright-minded space enthusiasts, many of which I now call close friends of mine. 
A shout-out to everyone also involved in last year's events, big thank you to you all!"
Short quote Daniel feels guided by:
"The most important thing is to try and inspire people so that they can be great at whatever they want to do." – Kobe Bryant
From the SGAC Operations Manager, Matteo Cappella:  
"Working with Daniel has been great, being both fun and professional. Involved in the delegate team for the 4th E-SGW, during the event (in May) Daniel was already planning and asking on how to best communicate with SGC2019 Delegates, something that would have been happening only months later. Kudos to him for being nominated Member of the Month!"