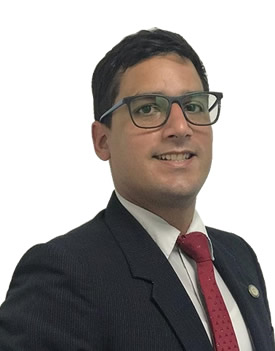 Studies:
Lawyer – Intellectual Property
Future goal:
Boost the space industry in Venezuela.
Make important contributions to Space Law.
Found a company in the space sector with global impact.
Hobbies:
Space & Agriculture.
Second nationality:
Portuguese.
Other activities:
World Space Week National Contact Point
Executive Secretary at Fundación Venezuela Esequiba (Where border issues are addressed).
Nominees' motivations:
Oscar Ojeda – RC South America
Jose has shown leadership and independence in his role as NPoC, as well as to help others that are in need. Jose has developed with great effort a series of webinars on different topics that are of high relevance for the region, and that have had an impact. This effort is relevant, considering the natural difficulties of the region.
Santiago Enriquez – RC South America
Jose has been making a great contribution to SGAC in the South American Region in the last months, organising webinars about space-related themes and trying to connect different space-related institutions in order to communicate our SGAC's vision. I think he deserves this recognition.
José' reaction:
I thank the SGAC board for their wonderful work and for taking me into account, in the same way I thank those who nominated me, their trust is the best award you can have. It took me by surprise that I was chosen as a member of the month out of so many people with so many talents and abilities, it motivates me to keep looking for ways to make the Space Generation Advisory Council a better organization.
For my SGAC it is a wonderful space, where I have the opportunity to meet my great passions: Space and Space Law. SGAC has shown me that the countries where we were born are not a limit to dream about space, on the contrary, this organization motivates us and encourages us to dream, and dreaming is the first step to build great things, like a pioneering Venezuela in the space sector, a space industry within the reach and service of all sectors of humanity, an autonomous and independent Space Law of all branches of law, among many other things.
Talking about the space sector in Venezuela is complicated, as well as seeking to promote this space from the private sector. The sad and complex situation that we are going through as a nation makes it a little more intricate, but even with all this, thanks to the motivation and support of SGAC, I have managed to contribute my bit.
Personal quotes José feels guided by in his pursuit of dreams:
"The size of your success will be the size of your effort." – Francisco de Miranda
"Once you start you have to keep doing it. A painting never ends."- Armando Reverón
"The countries where we were born are not a limit to dream about space."
I hope to continue growing with SGAC for a long time to come, ad Astra.
From the SGAC Executive Director – Clémentine Decoopman:
"I would like to congratulate Jose for being selected as the Member of the Month. We would like to recognise his great work as National Point of Contact for Venezuela and contribution towards SGAC in the South American Region in the past months. He has been working successfully towards growing the SGAC network in the country and in the region through different activities such as webinars. Thank you for your great efforts Jose!"