SGAC is proud to present the September 2020 Member of the Month!
2020 is a year of unprecedented times, challenging and difficult situations, but still, people around the world are trying to unlock the 'new' in every situation they are faced with, to make their message heard or learn new important skills.
SGAC Member of the Month appreciation programme is continuing to recognise the hard work and dedication of outstanding volunteers, where their contributions make a real difference in their respective communities.
Continuing the amazing efforts various online events organizing teams have provided the network with, for September 2020, we are pleased to announce and congratulate Yulia Akisheva as Member of the Month!
---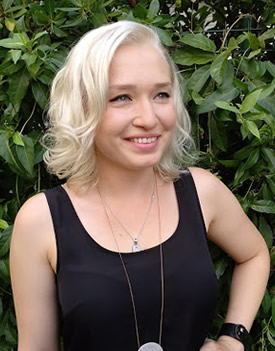 Two nationalities, Russian and Swedish; three Master's degrees, and 26 years of age make one aerospace engineer and young scientist. In space, Yulia is above all passionate about human exploration of Mars and international collaboration. In life, she loves to listen to others to try and understand their point of view.
Yulia is part of Our Giant Leap, a new initiative at SGAC aiming to bring gender balance and foster inclusion in the aerospace sector. As part of the initiative, the team has organised the first post-pandemic face-to-face local event SG[France]2020 – Our Giant Leap where Yulia was the Event Manager. Now, the team is planning many more projects and activities for its continuously growing base of SGAC champions.
Nominator:
Pauline Delande – National Point of Contact for France and SG[France]2020 – Our Giant Leap – Deputy Event Manager
"I have been working with Yulia for 1 year as part of Our Giant Leap activities. Since the very beginning, Yulia has been a true leader: injecting a lot of energy and ideas, caring for feedback and opinions, organizing a lot of activities and meetings. Despite the obstacles (COVID-19 situation that forced us to postpone SG[France]2020), she has been succeeding in keeping the team at a high level of motivation! For all these reasons, I truly believe that she does deserve SGAC Member of the Month recognition."
Yulia's reaction:
"SGAC and Our Giant Leap have given me the opportunity to devote my time and efforts to something truly bigger than myself. I am honoured to be doing this with our fantastic Our Giant Leap team, and I am so grateful for this recognition. It warms my heart."
Yulia's inspiration slogan when in doubt: 
"Just do it."
Harriet Brettle – SGAC Co-Chair
"Yulia has done an outstanding job in leading the Our Giant Leap event team this year! Under the challenging circumstances of the global COVID pandemic, Yulia and the team hosted a safe and secure event on an incredibly important topic of diversity and inclusion in the aerospace sector. Yulia led many creative initiatives to engage new audiences to SGAC, including an art exhibition, panel discussions, and support from industry leaders for gender equality. Well deserved and congratulations!"