Panel Discussion 1:
Role of Space Startup in Developing the Space Sector in the Asia-Pacific
Duration:6 minutes per start-up(avg)
Description: Start-ups are the businesses that individuals or a group of motivated people form. These businesses in the space sector shape up the industry in various creative ways. They potentially create opportunities for graduates and enthusiasts too. Getting to know about their journey in becoming successful can inspire so many other individuals who would also want to start their own. This panel brings five such entities from the Asia-Pacific region who represent the accomplished businesses that improved the space sector as well as the lives of people either by educating them about space, giving them a taste of space tourism, or by building satellites that help us in numerous ways.  
Panelists

Dr. Hiranya Jayakody
CTO & co-founder, HEO Robotics
Hiranya Jayakody is the CTO and co-founder of HEO Robotics, a start-up that deploys space-based cameras to provide health checks on valuable assets in space. He co-founded the company in 2016, after finishing his Ph.D. in Mechatronics engineering at UNSW Sydney, where he developed robust control algorithms for unmanned aerial vehicles. In addition to the start-up, he worked as a researcher and a lecturer at UNSW Sydney where he focused on computer vision and edge computing for agricultural robotics

Rakesh Chandra Prajapati
Founder and CEO, ORION Space, Nepal
Rakesh Chandra Prajapati is the Founder and CEO of ORION Space in Nepal. ORION Space is a NewSpace company building pico/nano-satellite and providing training in building pico/nano-satellites. Prajapati completed his bachelor's degree in Electrical and Electronics (specialization in Communication) from Kathmandu University, Nepal in 2004.

Ms. Sonal Asgotraa
Program Leader, Astrostays
Sonal Asgotraa is the Program Leader of Astrostays (www.astrostays.com) – a unique community-centric Astro-tourism model that leverages Astronomy for creating sustainable Socio-economic Development opportunities for rural communities. The initiative merges Astronomy and community development initiatives to promote Astro-tourism as a more sustainable form of travel that brings the economic benefits of tourism to remote areas, away from built-up tourist regions – transforming village homestays into Cultural and Astronomy Hubs and economically empowering rural communities. Sonal was also a team member of the 2013 International Antarctic Expedition led by Polar Explorer, Sir Robert Swan, OBE.

Naushad Rahman
Founder and CEO, Delta-V Robotics
Naushad Rahman is the Founder and CEO of Delta-V Robotics. He is a Space entrepreneur and has passion and experience for Engineering. He has developed various high-performance computer applications, algorithms, and models for the Space, computing, and Healthcare industries.
Panel Discussion 2: 
Role of Government in Developing the Space Sector in the Asia-Pacific
Duration: 45 mins
Description:
This panel gathers established and emerging space-faring nations in the Asia-Pacific (APAC) region via their government space agencies to talk about the current status of space development, including their respective efforts, approaches, and priorities to grow their space industries. A review on existing national policies as well as multi-government cooperation initiatives will be tackled, with an emphasis on identifying opportunities and challenges of pursuing a truly inclusive regional cooperative framework in the APAC.
Panelists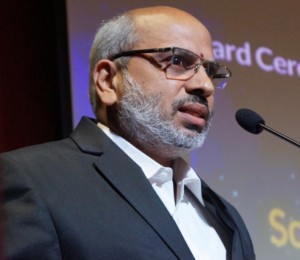 Sudheer Kumar N
Director, Capacity Building Programme Office (CBPO), Indian Space Research Organisation
Sudheer Kumar N graduated with a degree in Mechanical Engineering and has a postgraduate degree In Industrial Engineering. He has served in Tata Steel for 6 years, implemented various quality systems. He joined ISRO in 2000 and assumed key roles in/as: (1) Developing enterprise software solutions; (2) Core team member for realising ISRO's largest solid rocket propellant plant, state of art mission control centre, assembly & integration facilities for GSLV Mark III project, radars, and critical equipment for launch complex; and, (3) in-charge of the second vehicle assembly building project which is the largest rocket integration facility of ISRO. In 2011, he was also deputed for the Space Studies Programme at the International Space University in Austria. Mr. Sudheer is presently working as Director of the Capacity Building Programme Office at ISRO HQ and responsible for capacity building in the areas of research and academia interface, start-up incubation, industrialisation, indigenisation, technology transfer, IPR, technical infrastructure, and outreach activities of ISRO.

Dr. Ariel C. Blanco
Director, Space Infrastructure and Information Bureau, Philippine Space Agency
Dr. Ariel C. Blanco is a Professor of Geodetic Engineering at the University of the Philippines. He is on secondment to the Philippine Space Agency (PhilSA) as Director of the Space Information Infrastructure Bureau (SIIB). The SIIB is in charge of the vital infrastructure that focus on the generation, computation, processing, archiving, and distribution of space-borne data and information through ground segment and downstream facilities, including multi-mission ground stations for satellites and other space missions, high-performance computing facilities, data archiving and cataloging systems, computational tools, and associated information technology systems that serve as the underlying infrastructure for that transformation of data into useful information. He obtained his Bachelor of Science in Geodetic Engineering degree from the University of the Philippines Diliman in the Philippines, his Master of Applied Science in Geographic Information Systems from the University of Melbourne in Australia, and his Doctor of Engineering in Environmental Informatics from the Tokyo Institute of Technology in Japan. Dr. Blanco successfully led and completed various R&D projects utilizing geospatial technologies in various applications, including environmental and agricultural. He is currently the Program Leader of the IM4ManilaBay Program and Project Director of the BlueCARES Project on blue carbon ecosystems.

Tim Searle
Senior Policy Advisor, New Zealand Space Agency
Tim Searle is a Senior Policy Advisor at the New Zealand Space Agency. The New Zealand Space Agency is the lead Government agency for space policy, regulation and business development relating to outer space and high-altitude activities from New Zealand. At the Space Agency his work stream covers a number of areas which fall under the space umbrella, including: developing policy, negotiation of international agreements and the design of R+D investments. Prior to working at the New Zealand Space Agency, Tim was working at Spacetec Partners, a space specific management consultancy, where he worked on a number of public European Space projects with public institutions (European Commission, ESA, EGNSS and National Space Agencies). Tim's earlier work outside of the Space domain included strategy consulting on new technologies to enhance primary industries. Tim's key strengths lie in Space policy, market forecasting, access to finance and economic modelling. Key technology focusses are: small launchers, the small satellite market, disruptive new technologies and clean space.

Wasanchai Vongsantivanich
Head, Strategic and Operations Aerospace Research Center, Geo-Informatics and Space Technology Development Agency (GISTDA)
Wasanchai is currently working as the head of Strategic and Operations Aerospace Research Center (SOAR) under Geo-Informatics and Space Technology Development Agency (GISTDA), Thailand. He has initiated and currently in charge of several national and international space projects, mainly on space operations and space applications. He is also actively working in Thailand airspace policy committee as well as national SSA-STM policy committee. He had obtained IAF Emerging Space Leaders Award in 2018.