SGAC is turning 20 this year, what better way to celebrate than by bringing together our alumni and friends during IAC?
Join us for a night of celebrations, powered by fun memories and nostalgia!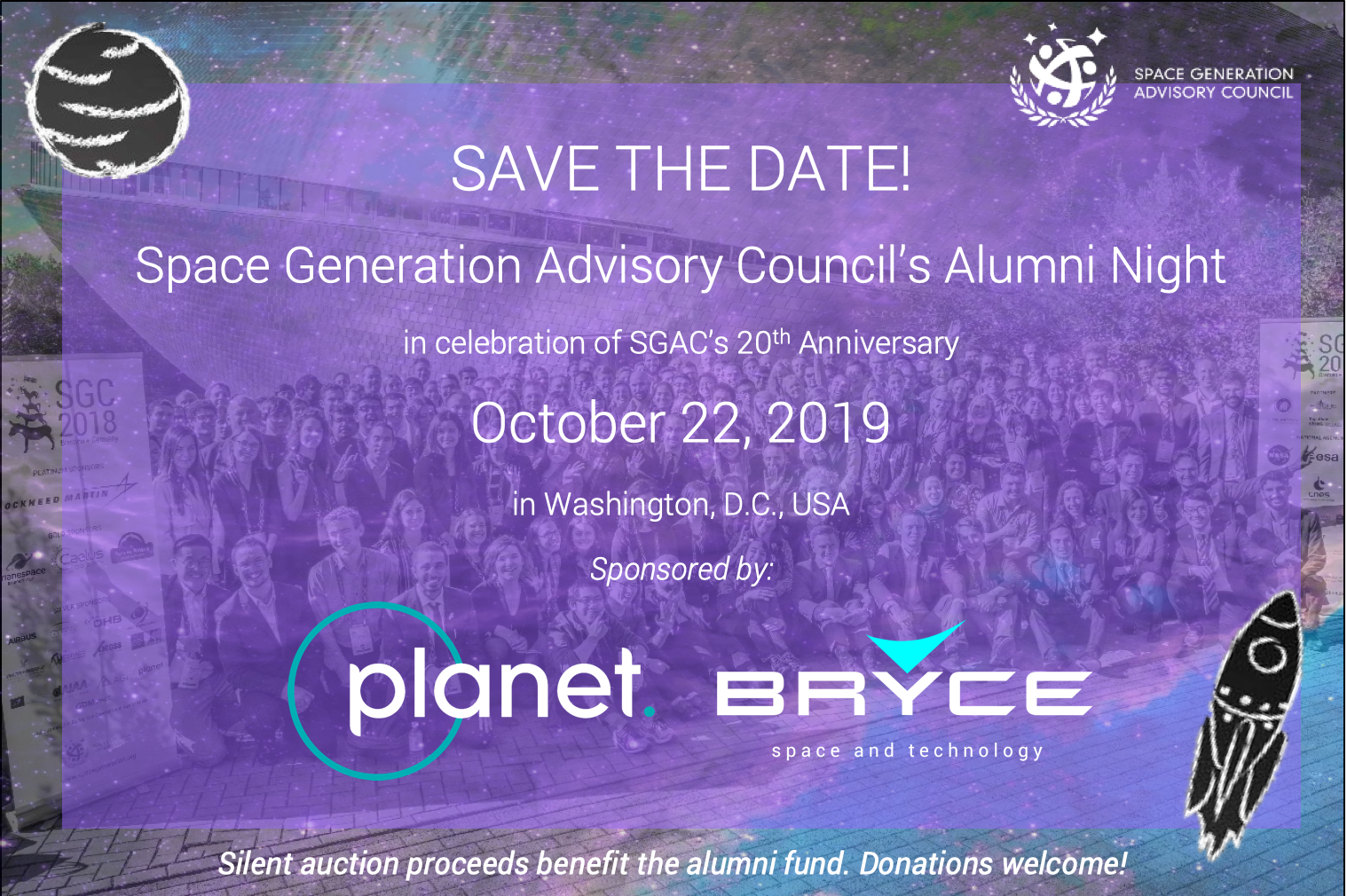 The SGAC Alumni Night will welcome more than 150 participants, young professionals, students, SGAC alumni, partners and friends. During the evening, SGAC will host a silent auction with very neat space-related items, whose proceeds will go directly towards the SGAC Alumni Fund and support scholarships for our members to attend events and conferences around the world such as the International Astronautical Congress (IAC). The same night, SGAC will present the newly launched Alumni Award and reveal the name of the first Awarded Alumna or Alumnus.
What's a silent auction?
A silent auction is what it sounds like! Auction Items will be exposed, and participants can bid and outbid  each other by adding their name to sheets of paper readily distributed in the venue. An announcement will be made 15 minutes before the ending of the bidding time. After the time is over, our team will collect the sheets of papers and evaluate them to select the winner for each item.
All the proceedings of the auction will contribute to the growth of the SGAC Alumni Fund and contribute to scholarships to our members.
Would you or your company like to contribute to the auction by donating one or more items?
Please contact [email protected].
---
Silent auction donors
During the Night, SGAC will also present the first SGAC Alumni Award and announce the Awardee. The Award has been launched as a way to celebrate SGAC's 20th Anniversary. With the Award, SGAC wants to acknowledge selected alumni for meritorious contributions to the SGAC community, for demonstrating a high degree of loyalty and commitment to SGAC, and for outstanding leadership and ongoing support to the organisation.
Here you can read more about the Alumni Award, the selection criteria, and the overall timeline for the selection process!
The SGAC Alumni Night Event will take place on the side of the 70th IAC,
Tuesday 22 October 2019
21:00 to 00:00
| | |
| --- | --- |
| 21:00 | Opening of the Night |
| 21:00-22:30 | Silent Auction |
| 22:30 | Presentation of the Alumni Award |
| 22:50 | Announcement of Silent Auction Winners |
450 K St NW, Washington, D.C. 20001
The event is brought to you by Planet and Bryce Space and Technology
A company of SGAC proud alumni, Planet is an American private Earth imaging company based in San Francisco, CA, with the goal to image the entirety of the planet daily to monitor changes and pinpoint trends. 
A long-time friend of SGAC, Bryce Space and Technology is an analytics and engineering firm for space and satellite, cyber, and R&D clients. We help our clients turn technology into mission and business success.