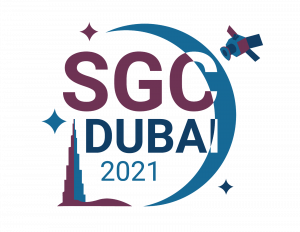 On behalf of the Space Generation Congress 2021 Organising Team, we are pleased to welcoming you to Dubai to join us for the 19th SGC. The annual SGC brings together delegates and colleagues from government, industry, academia, policy-makers, and entrepreneurs to debate and discuss issues affecting our fast-growing sector.
Please find below a list of commonly asked questions and their respective answers. For further details, the SGC2021 Delegate Handbook is linked below.
What is a Hybrid Event?
This year the SGC is going hybrid! That means that delegates can either participate in person in Dubai or online! Online participants will be a part of the Working Group sessions, have access to the keynotes and panels, and any other presentation/workshop material offered to our in-person delegates. 
Events like our Space Night and International Cultural Night will be in person, however, our Programming Team is working hard to ensure that our online delegates will have the opportunity to network with one another and have a fulfilling SGC experience.
Where is the SGC Venue?
The 19th Space Generation Congress will be hosted at the Mohammed Bin Rashid University of Medicine and Health Sciences, University of Dubai, United Arab Emirates.
How much shall I plan for my discretionary spending during SGC?
Individual preference may vary with regard to discretionary spending.
What is included in my SGC Delegate Ticket?
In-person: 
SGC Delegate Welcome Pack
Access to Sponsor Subject Matter Experts for Working Groups, Keynotes, and Panels
Catering Onsite
SGC International Night
SGC Space Night
SGC Closing Dinner
Free Wi-Fi at the venue
Speakers, staff and materials needed for the Congress
Online: 
Speakers, staff and materials needed for the Congress
Access to Sponsor Subject Matter Experts for Working Groups, Keynotes, and Panels
Online events (more info coming soon!)
Not included with your ticket: 
Tours and optional excursions
Any other expenses not directly listed above
What is planned during the SGC2021?
SGC will last three days, the 21st through the 23rd of October, 2021. A schedule of events during the Congress will be provided soon.
How can I apply to be a delegate for the SGC2021?
Applications to be a delegate for the 19th Space Generation Congress will be open from June 1st and close on June 30th, 2021 at 23:59 GMT. Visit our Apply page to apply now!
How can I apply to be a moderator for the SGC2021?
This year, we are offering moderator positions to our delegates! Please include in your application to the SGC 2021 delegate cohort that you would like to be considered to be a moderator for one of our working groups when prompted. Visit our Apply page to apply now!
When should I arrive for SGC2021?
Programming will start promptly at 08:00 on 21st October 2021. Arriving a day early will help in getting oriented to the city of Dubai and allow for sightseeing before the Congress kicks off.
What do I need to bring to the conference?
All Space Generation Congress delegates are required to make their own hotel arrangements in Dubai. In due course, the SGAC will provide hotel recommendations nearby to the congress venue. 
Cancellation: Reservations must be cancelled 72 hours before the set arrival date. Any cancellation after this time cannot guarantee a full refund.
What is planned for the evening of SGC?
Check out our Evening Events page! More information coming soon.
What is the dress code for the conference and evening events?
The dress code for the Congress is business professional. Attire for the Closing Dinner is formal attire or one's country's formal, traditional attire. Attire for the evening events are also business casual, and for International Night please feel encouraged to wear traditional clothing from your home country. Please note that punctual attendance is required for all sessions. This requirement is to show respect for the speakers as well as for SGC Working Group peers.
Are there any SGC activities during IAC?
Yes! SGAC will have several activities during IAC (in addition to SGC). Stay tuned for more updates!
Do I need a VISA for Dubai?
All visitors to Dubai must have a valid passport and visa for travel unless subject to the visa waiver program. Visit https://www.uae-embassy.org/services-resources/uae-visas-passports for more information on UAE Visa and Passport requirements.
Who can I contact in case of an emergency?
In case of emergency, dial 999 for Police, 998 for Ambulance, and 997 for Fire Department. Do not call the emergency numbers if the incident does not require immediate attention or is not an emergency, as this can often result in a fine or imprisonment.
What is the currency in Dubai?
The UAE uses the UAE Dirham as their official currency.
What are the COVID-19 restrictions?
Please refer to the COVID-19 Information page for information regarding COVID-19 restrictions and the actions SGAC is taking to ensure the SGC2021 is run in a safe manner. Information will be updated as it becomes available.