The SGAC "SpaceGen Ambassador Award"
In 2019, in the occasion of the 20th anniversary of the Space Generation Advisory Council (SGAC), the organisation launches its "SpaceGen Ambassador Award" Award Programme. SGAC wants to acknowledge organisations that deeply care for our generation, our talents, skills and needs – organisations that actively support us as the next generation of space leaders, empowering us as such, enabling us to grow.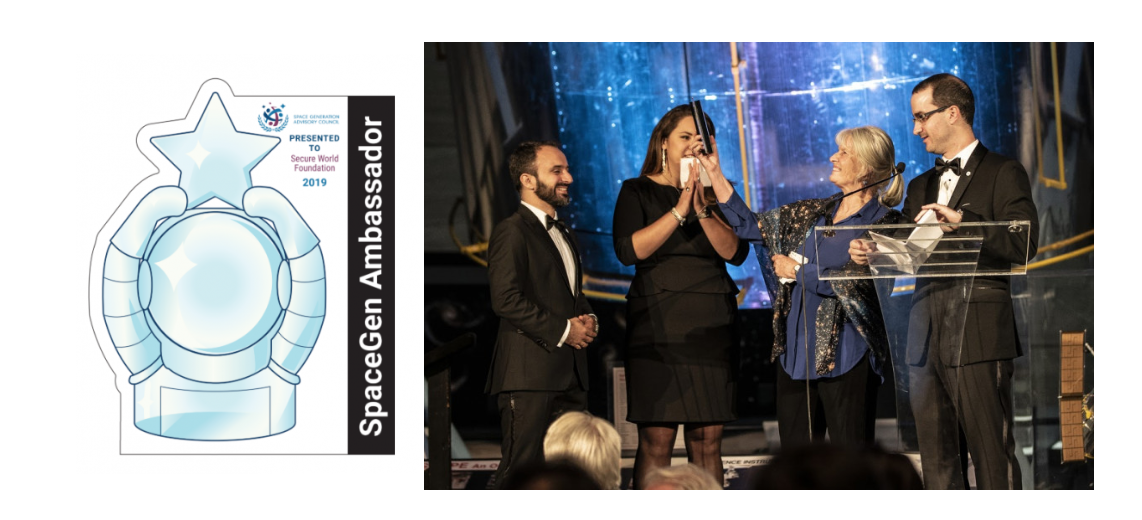 Eligibility
The award is presented to an organisation from the space sector, either governmental, non-governmental, or private company that demonstrates genuine care for the next generation, actively supporting and empowering young space professionals and students.
Number of Awards
An organisation may receive the award only once.
Only one award is conferred each year.
Eligibility criteria
SGAC wishes to recognise space organisations that support the next generation, caring for young professionals and students by (at least two of the following):
Supporting space-related youth organisations and programmes

Providing support/funds to youth organisations

Sponsorships of events

Availability to reach out and advise to organisations, mentor the youth

Having internal programmes for the youth

, training, mentorship, financial support to learn

Awards scholarships and grants programmes for its employees

Provides training and educational programmes for its employees

Supports mentoring programmes within the organisation

Proactively inspiring the youth

(both internally and externally)

Having a mission that inspires the next generation of space professionals

Promoting positive work environment culture

Conducting outreach, educational and motivational activities

Connecting space communities worldwide

Providing discussion and network opportunities worldwide

Being proactively open to partnerships and cooperation for projects
Alignment to SGAC's mission
To be eligible, the organisation needs also to represent the SGAC mission in at least two of these following criteria:
Empowering its young professionals

with real responsibilities within the organisation

Embracing and promoting diversity (generational, geographical, gender)
Supporting SGAC's activities and members
Nomination and Selection Rules
Who can nominate
2020 Award timeline 
1st of December 2019: Call for nomination is open

1st of April 2020: End of nomination period 

1st of April – 31st of April 2020: Evaluation period

1st of May 2020: Announcement and Notice to the awardee

10th of October 2020: the Award is presented at the Space Generation Congress Closing Dinner 
Jury Panel
SGAC Executive Director

4 Selected Volunteers from the SGAC Executive Committee Teams
Evaluation Process
The Jury Panel evaluates and shortlists 3 nominations, providing rationales for the choices

The Board of SGAC (RCs + Co-Chairs) votes by majority one of the finalists. In case of tie vote, the Chair decides the winner.
Conflict of interest:
In order to avoid conflict of interests, Jury members will be asked to declare, and eventually abstain from evaluating, which nominations come from:
Entities that they are currently employees of,

Entities that they have worked for,

Entities that they are actively seeking or envisioning employment from, up to six months after the evaluation period.
Previous Awardees
2019 SGAC SpaceGen Ambassador Award:

Secure World Foundation

nominated by Ms. Agnieszka Łukaszczyk, Senior Director – European Affairs at Planet
Are you interested in nominating an organisation? To support you write the best pitch, here the questions you will find in the Nomination Form
Questions: 
Nominator:
Full Name

Date of Birth

Nationality

Gender

Current Status

Affiliation

Role within SGAC (if any)
Nominee:
Name of the Organisation

Mission Statement and Vision of the organisation.
How is the Organisation a SpaceGen ambassador? (200 words)
Has this organisation contributed to SGAC before? 
If yes, how? 
Eligibility – Given the criteria listed in the Nomination Guidelines, please explain:

Which criteria do the organisation falls in? How it is so? (200 words)
How does the organisation align to SGAC mission? (200 words)
Other:
Why should SGAC prefer this organisation over others? Pitch us! (150 words)